10 Video Games That Mocked You For Winning
10. Bioshock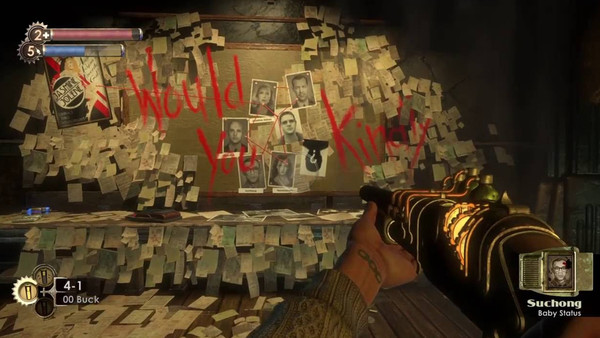 BioShock did something a little smarter than just cynically thumbing its nose at the player for doing some very bad things: it deconstructed the entire notion of "winning" in video games, by mocking the instruction-following dynamic by which most conventional games are defined.
Roughly 75% of the way through BioShock, the player's progress is rewarded with the reveal that Atlas, the seemingly benevolent character guiding protagonist Jack through the experience, has in fact been controlling his actions by way of psychological conditioning.
This culminates in the player having control of the game wrestled away from them, as they forcibly beat Atlas' business rival Andrew Ryan to death in a cut-scene, with no possibility of a diverging plot path.
Given that director Ken Levine's System Shock games were centered around player choice and freedom, Bioshock's late-day twist served as a defiant flip of the bird to players expecting more of the same here.
Instead, by severely limiting true player freedom and eventually denying them any input (literally) in the game's most pivotal moment, Levine at once passed commentary on the limitations of player agency while underlining the player's own conditioning to blindly carry out a list of objectives.