15 Video Games That REWARD YOU For Playing Badly
We only did it for the achievement, honest.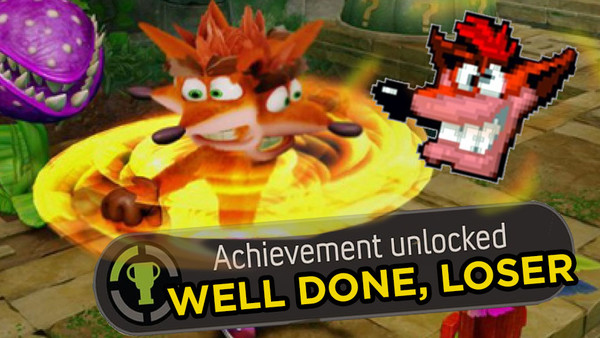 Some games are intentionally hard for your average gamer (*cough* Dark Souls), and the reward for finally traversing a frustrating platform level or felling that controller-throwing boss (*cough* Ornstein and Smough) is simply the knowledge that you've bested your newest mortal enemy, never needing to do it again.
Others, meanwhile, are not designed to be as insanely difficult, or to require skill way beyond the capabilities of half-awake or drunk versions of ourselves. Let's face it, Mario Kart is frequently an alcohol-fuelled experience.
Should we still manage to suck at these games, however, they may be nice enough to throw us a lifeline, or perhaps a unique unlockable that would otherwise be missed if you were dull enough to actually be good at the game.
Alternatively, they may further our embarrassment by reminding us we're completely crap, using an achievement or other in-game accolade that will forever remain tied to our accounts as a badge of shame.
When it comes to these examples, the best things come to those that fail. Please, nobody check our trophy list...
Jake Mellor
I'm perfectly sane, or so the voices tell me. British, sarcastic, president of the European Slinky Association, have a tendency to lie when listing things about myself. 100% guilty of being a massive geek obsessed with Doctor Who, Harry Potter and video games. If you can't find me on the internet, I'm probably locked in a room playing Spyro the Dragon on my old PlayStation, or blowing everything to smithereens with a concrete donkey on Worms: Armageddon.
See more from Jake