Far Cry Primal - 10 Easter Eggs, References & Secrets You Must Find
6. Bones Of The Blood Dragon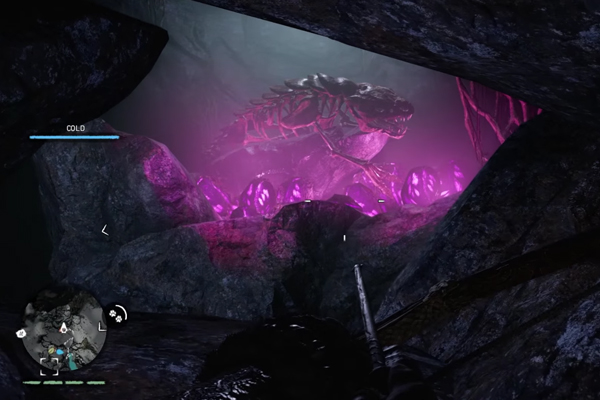 Blood Dragon was not only the best bit of DLC released throughout the Far Cry series, but one of the most unexpected and ingenious DLCs of all time. Sure, visually it was just Far Cry 3 with an 80s neon/VHS filter put over it, but its completely out-there retro charm had many of us enraptured. In honour of the great DLC pack, you can find what appears to be a dinosaur skeleton in Far Cry Primal, but underlit with that distinctive fuschia colour that's so characteristic of Blood Dragon. Our conclusion? What we're looking at here is none other than a skeleton of an actual blood dragon! How else would you explain that lighting? This would then mean that the neon-soaked future of Far Cry: Blood Dragon is actually the distant past, or that Blood Dragons somehow come back out of extinction in the very distant future.
Or
this is just one of those Easter eggs that shouldn't be read into too much, and we should just say '
ooooooh, cool'
before swiftly moving on...