Football Manager 2022: 10 Attacking Midfielders You Must Sign
9. Matías Palacios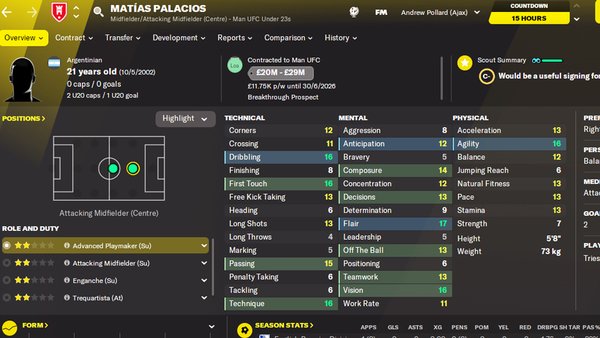 Club: Basel
Nationality: Argentinian
Price: £5.5 million
Nowadays plying his trade for FC Basel in the Swiss Super League, Argentinian prospect Matías Palacios can flourish into a bona fide superstar if handled in the right way.
As ever, that 'right way' will involve a decent training regime, top level coaches, and of course plenty of minutes on the pitch - whether that's for you own first team or whether you maybe opt to loan the 19-year-old out for a season or two. If you can afford to give Palacios game time at your club, that's clearly the best way to go.
Best utilised as an enganche, Palacios has remarkable key stats for a 19-year-old CAM. In that regard, it's flair (17), determination (16), agility (15), first touch (15), dribbling (15) and the ever-important technique (15) that are the obvious standouts.
Likely to be available for around the £5.5 million mark, Palacios is again one of those attacking midfielders who is somewhat of a bargain, and he can be inserted straight into the first team squad should you be a midtable top league side looking to push on to that next level.