Football Manager 2022: 10 Attacking Midfielders You Must Sign
Those CAMs to drive you to FM22 glory!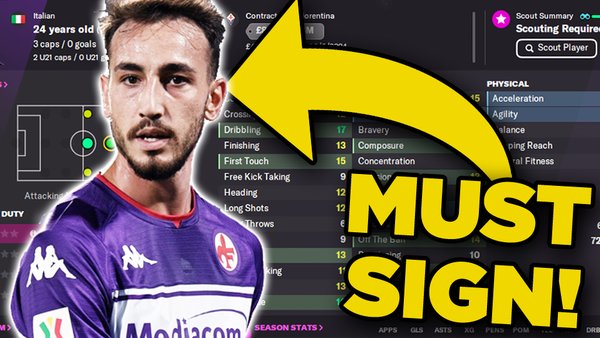 By now, Football Manager 2022 has been available for a couple of months, but, like other FM games, FM22 is one that even the biggest of FM die-hards will often be on the lookout for tips and pointers for. On that front, we've more than got you covered when it comes to some recommended signings for your respective clubs.
Already, we've shone a spotlight on a whole host of Goalkeepers, Right-Backs, Left-Backs, Centre-Backs and Defensive Midfielders to help drive your club to glory, and now it's the turn of the Attacking Midfielders to take centre-stage.
As was the case with those other positions, the focus here is more on lesser-known players rather than the obvious, big name superstars. Due to that, don't expect to see the likes of Bruno Fernandes, Kevin De Bruyne, Pedri, Phil Foden, Mason Mount, Isco and Kai Havertz featured here. Instead, consider the suggestions here somewhat hidden gems or hot future stars on the rise.
With that in mind, then, here are ten fantastic CAM options to assist in your quest for FM22 dominance.
10. Thiago Almada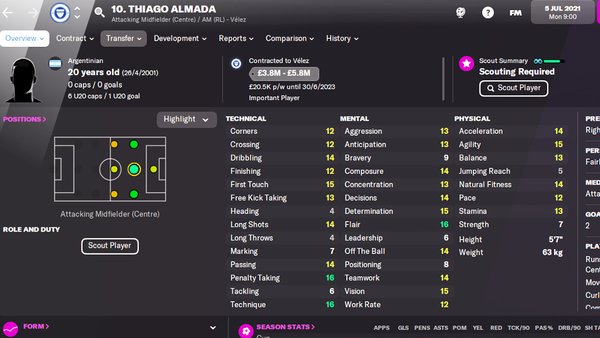 Club: Velez Sarsfield
Nationality: Argentinian
Price: £5 million
If you've played the past couple of iterations of Football Manager, chances are you'll be well aware of Thiago Almada. If you're new to FM or have taken a break from the franchise for the last few years, this is one of the greatest prospects on FM22.
This diminutive young Argentinian is your classic #10, with strong numbers for flair (16), technique (16), vision (15), first touch (15) and agility (15) marking him out as a great choice to create chances in an outright attacking midfield role.
For comparison, 20-year-old Almada is little like an early career Ever Banega, where he'd patrol the CAM position and patiently wait for the right opportunity to present itself for that killer pass or inventive trickery. Making the Velez man even more appealing, too, is his relatively low price.
Should you choose to make a move for Thiago in your first pre-season, you should be able to sign him for £5 million or possibly less. For that price, you get a creative attacking midfielder who is a great prospect who will be capable of dominating in the top leagues within one or two seasons - should you give him plenty of first team football, that is.