Football Manager 2022: 10 Best Clubs To Get Cheap Wonderkids From
Cheap wonderkids to help you go straight to the top and become a Football Manager legend.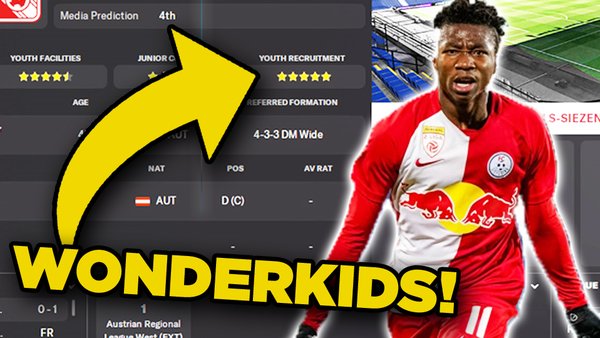 Playing Football Manager is all about discovering young, high-potential wonderkids and getting them to your team early, before PSG snatches them up. But with a massive database of players and, depending on the club you are managing, a limited budget, it can be very difficult to find the ones that will become the game's true superstars.
If you are managing in the lower levels of the football pyramid or one of Europe's more minor leagues, chances are you are on a shoestring budget, and your scouting network reaches as far as the neighbouring town. So, when sending your scouts on a flight to South America is not a viable option, the best alternative is to do it yourself.
Manually scouring dozens of clubs in hopes of stumbling onto a wing-back with decent crossing doesn't impact your club's budget. Still, it can be incredibly time-consuming unless you get lucky very quickly. Having a good idea of where to look and which clubs to go through could be a game-changer.
So, what makes a club more likely to produce wonderkids? Three major factors influence this: Youth Facilities, Youth Recruitment, and Junior Coaching. If you can find a club that has all three at a high level, then you've hit the jackpot!
To help you get started, we've assembled a list of ten such clubs, so go ahead and check it out.
10. Universidad Católica (Chile)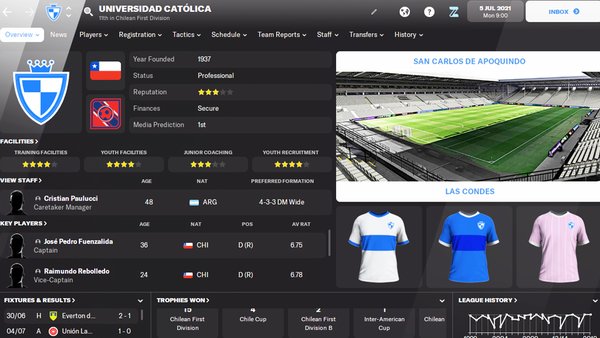 We kick off the list with a Football Manager favourite, the Chilean powerhouse from the capital of Santiago.
Founded in 1937, The Crusaders are the third most successful club in the country, having won 16 top-flight titles in total, including the most recent one in 2021.
While they may not have a treasure chest of young starlets right at the start of a game, it is their youth recruitment (rated at 18 out of 20) that enables them to scout and sign some of the best young talents in the region and the entire country.
Excellent youth facilities and coaching help them retain those talents -- at least until European giants come calling -- and they become a very scary team in just a couple of seasons. Which is why the ideal time to have a look through their youth teams might be after their first or second recruitment generation have come in.
A player that you might want to check out straight away is certainly attacking midfielder Marcelino Núñez. At 21, he's not exactly a kid, but already has incredible technical skills and the work rate to help in midfield, as well as further up the pitch.