Football Manager 2022: 10 Brazilian Wonderkids You Must Sign
Future superstars from the country that has produced countless others.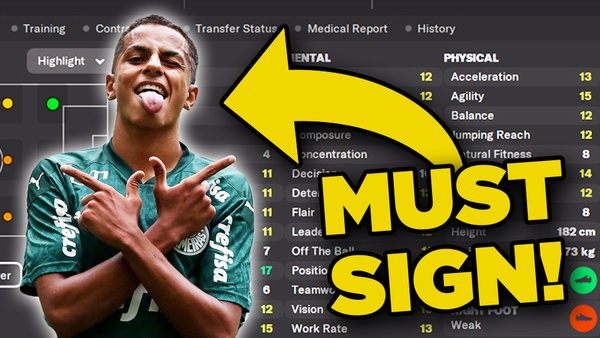 Perhaps no other country in the world, not even England where the sport was created, is as identified with the game of football as much as Brazil. The beautiful game is as iconic there as samba or the carnival, and ever since the days of Pele, Zico and Garrincha, Brazilian players were regularly considered among the very best in the world. And ever since the days of Kerlon, Ganso and Neymar, Brazilian wonderkids were some of the most sought after in the Football Manager franchise.
Whether you're managing Manchester United or Hajduk Split, the Brazilian leagues are undoubtedly among the first places you go looking for undiscovered young talent. And more times than not, that's where you're most likely to find it. That is certainly the case with FM22.
While the best young Brazilians may not come as cheap as they used to, they are still routinely among the most promising players in the entire database and therefore worth every penny. But if you're managing a bottom-half Serie A club, you are unlikely to be able to splash £100 on Gabriel Martinelli.
Fear not, because this list of ten best Brazilian wonderkids in FM22 includes some bargains, alongside the more familiar big names. Some of these are definitely going to end up on your shortlist.
10. Marcos Leonardo (Santos)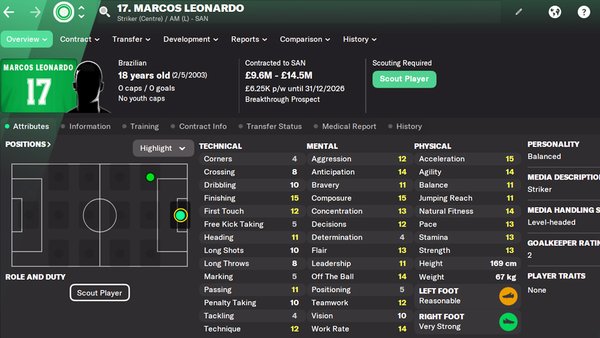 We kick off the list with this 18-year-old striker from one of Brazil's most famous clubs. Even at such a young age, Leonardo is already making waves in the Santos first team, having scored five goals in 16 appearances this season.
His in-game attributes already indicate what kind of a player he can become. His finishing, composure, and off-ball movement make him (all 14-rated at the start of the game) make him a dangerous poacher. However, that is not all that there is to his game. He has great natural physicality and a lot of potential to be a technically skilled player.
This enables him to be a threat off the left wing, from where he can cut inside, beat his man, and look for a shot or a square pass. Inverted wingers are very common in the modern game, and they are very effective in FM, so it's always a good idea to have someone like Leonardo in your squad.
His valuation is currently in the range between £5.2 - 15.5 million, which is more than accessible, especially considering that he will, at the very least, have great re-sale value.