Football Manager 2022: 10 Brazilian Wonderkids You Must Sign
9. Reinier (Borussia Dortmund)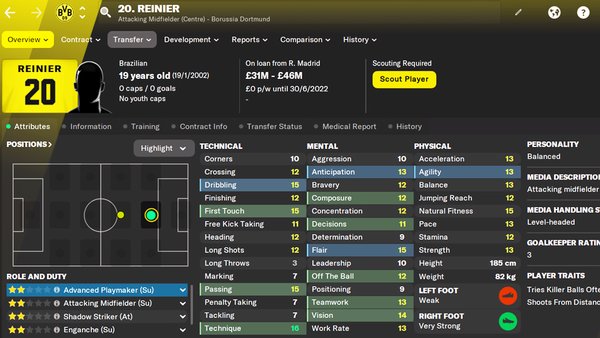 Next up is a much more familiar name, at least for people based in Europe. This 19-year-old attacking midfielder is another gem currently playing for Borussia Dortmund, but he is not actually owned by Der BVB. He is contracted to Real Madrid, who have loaned him out to the German side.
He's not having a particularly good season at Westfalenstadion, making only nine appearances and not contributing to any goals. But that doesn't take away anything from his massive potential in the FM22 universe.
He is already incredibly well-developed in practically all of the technical aspects of the game, with his great touch, flair, dribbling, and passing making him an elite playmaker. He is not particularly quick (he's not too slow, either) which mostly prevents him from being usable on either wing and limits his positional versatility.
However, due to his brilliant technique and vision, you can just slot him into that No. 10 role in a 4-2-3-1 and he will rack up the assists with his eyes closed. But he will not come cheap, though -- being a Madrid player on loan at Dortmund, his price automatically skyrockets and it's currently in the £24 - 75 million range.