Football Manager 2022: 10 Goalkeeper Wonderkids You Must Sign
Potentially world-class goalkeepers in Football Manager 2022 that you've never heard of.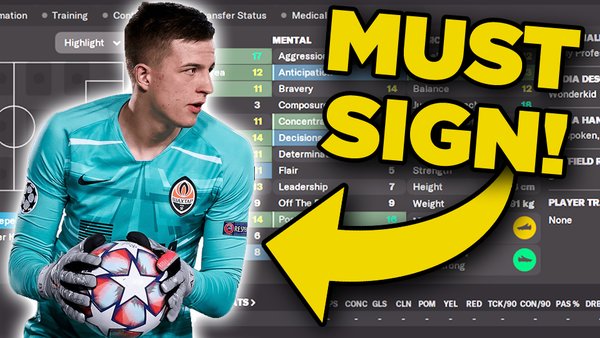 What is the first thing that you do when you start a Football Manager save? Some people check out their squad, set up their tactics, or sack half of their staff. Most of us, if we're honest, probably go straight to the finances to see how big the budget is. And it's never big enough, is it?
After that, maybe you go to the scouting tab and look for the best player that you can buy. Usually, that player is a lethal striker, a pacy winger, or a creative midfielder. But rarely, if ever, is the first player that you look for a goalkeeper.
Goalkeepers aren't the most exciting players to bring in, but they are definitely some of the most important. And because they can often play deep into their thirties, once you sign one that suits you, you're basically set for a decade and a half. Then you can focus on the strikers again!
So to help you find your future number one, we've put together a list of ten shot-stoppers, aged 20 or under, from the Football Manager 22 database. We tried to steer clear of the obvious ones, so only hardcore FM nerds will have heard of all ten.
10. James Trafford (Bolton)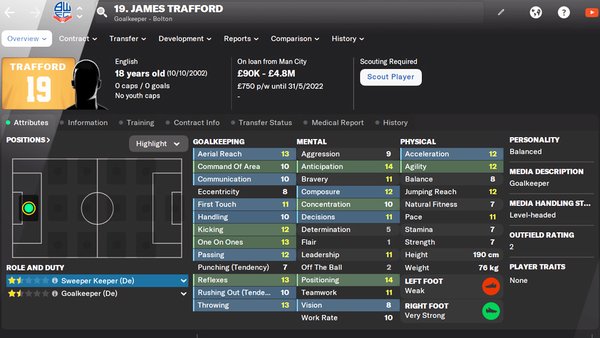 James Trafford is a Manchester City player who is currently on loan at Bolton Wanderers, after spending the first half of the current season on loan at Accrington Stanley.
He's immediately made himself a mainstay at the University of Bolton Stadium, starting 15 times in League One. He conceded 12 goals in that, having kept a clean sheet in each of his first four outings for the club. Interestingly, he is the first goalkeeper to accomplish that in Bolton's 148-year-old history.
Football Manager rates the 18-year-old Englishman very highly, with a price range of £6-18 million, although that might be slightly inflated because he is a Man City player. Very strong and athletic, but decent with the ball at his feet, Trafford is perhaps best employed as a traditional GK, with his low eccentricity stopping him from venturing too far from his box.
However, if you like to play with a higher defensive line that builds up play from the back, and want a keeper that can get himself involved, Trafford, being only 18, can easily be retrained into a more modern sweeper-keeper.