Football Manager 2022: 10 Goalkeepers You Must Sign
Those goalkeepers guaranteed to drive you towards FM glory!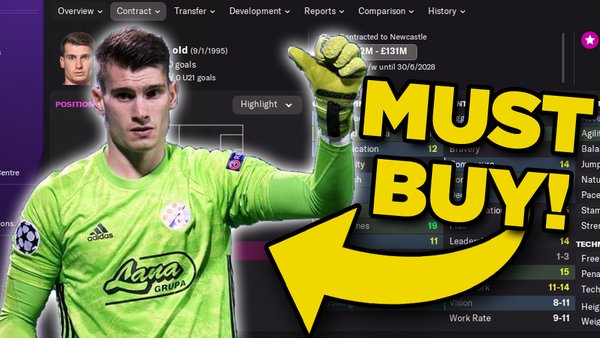 With Football Manager 2022 having already put so many of us under its spell - as is ever the case with the FM series - you've likely been utterly enamoured with, and absolutely frustrated by, the charms of this latest FM offering.
FM has long been able to make you fist bump in celebration or scream in despair, and a key part of getting more good FM22 vibes than bad is making sure you don't conceded stupid goals. To do that, you need a sturdy, solid hand between the sticks - and that's where this list has you completely covered.
Anyone with even a fleeting interest in the beautiful game will be well aware of the likes of Manuel Neuer, Jan Oblak, Gigi Donnarumma, Ederson, Alisson, Thibaut Courtois, Marc-Andre ter Stegen and David De Gea. Obviously they are all top level goalkeepers who will cost an astronomical figure on FM22, so here the focus is on those slightly lesser known GKs who can play a pivotal part in driving your team to glory.
It should also be noted how some of the screengrabs here are taken from five seasons into FM22, giving an idea of how some of these 'keepers develop over time. Another point of note, all financials are presented in British pounds.
With all of that in mind, then, here are ten phenomenal goalkeeper picks for Football Manager 2022.
10. Justin Bijlow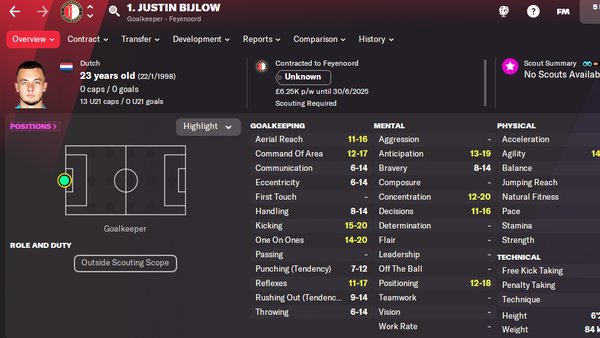 Club: Feyenoord
Nationality: Dutch
Price: £25 million
As of this writing, Justin Biljow has kept six clean sheets in 12 Eredivisie games this season, in turn playing a huge part in Feyenoord's solid start to the 21/22 campaign.
Having made his senior international debut earlier this year, Biljow also seems to have finally edged out Jasper Cillessen and Tim Krul to become Louis van Gaal's #1 for the Netherlands. With six caps to his name - won across the past seven games - the 23-year-old will likely be between the sticks for the Dutch when the Qatar 2022 World Cup starts next November.
A product of the Feyenoord youth system, the 6'2" stopper is ripe to make a big move both in real life and on Footballer Manager 2022. Of course, Feyenoord are not prepared to let Biljow go on the cheap, but an offer in the region of £25 million should seal the deal if you're looking to add him to your squad on FM22.
Compared to most of the other GKs on this list, Biljow isn't too badly priced and would fit right in at a progressive midtable side looking to make that step towards challenging for major silverware.