Football Manager 2022: 10 Right Wingers You Must Sign
9. Hulk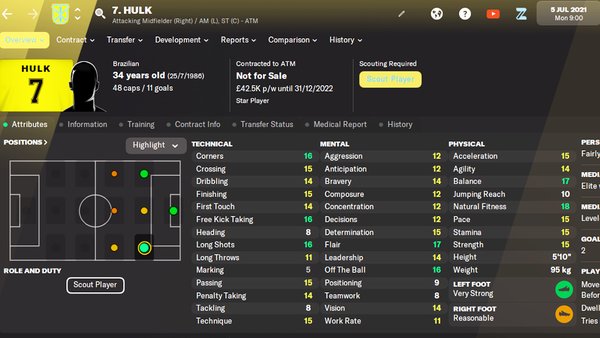 Club: ATM
Nationality: Brazilian
Price: £3 million
At 34 years of age, don't expect Hulk to be a long-term solution for your team but he can likely be an excellent option if you're just looking for someone to come in and quickly improve your squad at the right-wing position. He's unlikely to want to move to your club at the start of the game as he has only just joined ATM, but he could be available for as little as £3 million during the January transfer window, which is an incredible bargain for a player of his skills.
The former Brazil international features a solid set of attributes, including 16s in Corners and Free Kick Taking, so at the very least you could be good for a few extra goals from set-pieces by just having him in your squad. With almost all of his attributes well above 10 there's not much that Hulk cannot do on that right-wing but his best role is making use of his dominant left foot and that 16 Long Shots as an Inverted Winger.
Hulk makes for a great option for teams just looking for a short-term option on the right-wing perhaps while you wait for a Wonderkid to develop or for finances to improve so you can bring in a more expensive option. Either way at £3 million he is a steal for anyone that needs some quality on the right-wing.