Football Manager 2022: 10 Right Wingers You Must Sign
Those right-wingers who will give opposing defenders headaches.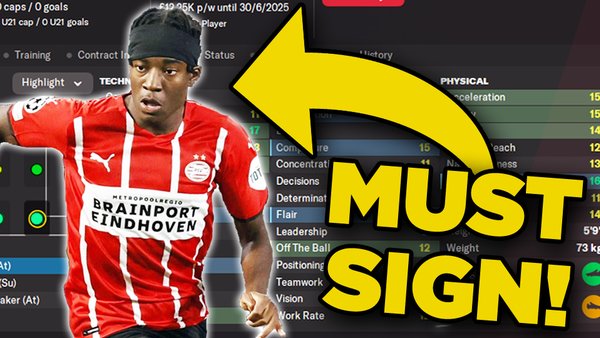 Football Manager 2022 features a huge database of players for you to scout and sign for your club but this means it can often be hard to find the right one even if you're a seasoned veteran.
Thankfully, we've had you covered in recent weeks with a good selection of players to suit your needs all over the pitch, with Goalkeepers, Right-Backs, Left-Backs, Centre-Backs, Defensive Midfielders, Attacking Midfielders as well as Strikers. Now we are going to look towards the flank, specifically the right flank, as we take a look at Right-Wingers.
As with the previous entries in this series the obvious names will be omitted to keep things interesting, so don't expect to see the likes of Lionel Messi, Kylian Mbappe or Mo Salah. There's no disputing that they are among the best players in the game but you likely won't need us to tell you that so we will be trying and focus on players that may not always be known to you.
A significant number of the players in this list feature Potential Ability ranges as opposed to fixed ratings. For the unfamiliar, this means that at the beginning of your save that player will be assigned a Potential Ability somewhere within that range. This means that a player who could be a world-beating Wonderkid in someone else's save could only be an average Joe in yours, therefore it's always recommended to scout the players fully before pulling the trigger on the transfer (This is a good idea anyway!).
So, let's get stuck into ten Right-Wingers who you must sign on FM22.
10. Karamoko Dembele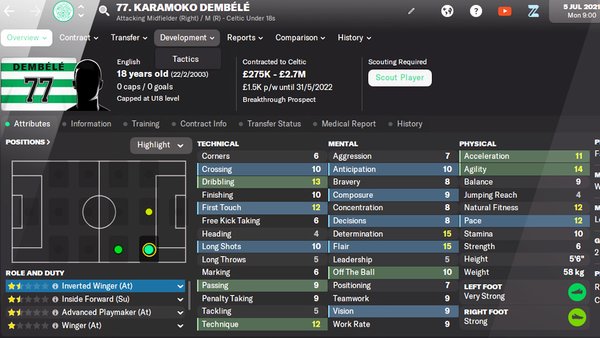 Club: Celtic
Nationality: English
Price: £1.3 million
Karamoko Dembele is a player who is yet to make good on his promise since making his first appearance for the Celtic first-team as a 16-year-old back in 2019, but he still has plenty of time to show why the green side of Glasgow remain excited by the young winger.
The England U18 international has shown bags of promise in his time at Celtic and Football Manager 2022 believes the best is still yet to come, as he possesses a Potential Ability rating in the range of 130 to 160, which will be determined at the beginning of your save. That rating may not be as high as some players on this list but it's still not to be scoffed at, especially considering that Dembele is likely to cost you a fraction of what most of the players on this list will cost.
Featuring strong attributes, such as 15s in both Determination and Flair to go along with decent Crossing (13) and First Touch (12), Dembele could be a good option for Championship level teams but will likely be one for the future for anyone managing a team above that level. However, at only 18 years old and available for as little as £1.3 million at the start of the game he's a player that it's worth taking a punt on to see how he develops.