Football Manager 2022: 10 Spanish Wonderkids You Must Sign
Best talents from the country that produced Xavi, Iniesta, and Fabregas.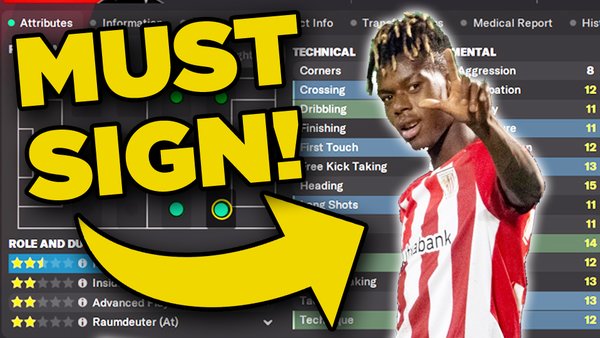 The golden generation of the Spanish national team, led by stars such as Xavi, Sergio Ramos, and Andrés Iniesta, ruled world football with an iron fist for four years between 2008 and 2012. But as many of those players aged past their prime -- or in some cases, retired -- La Furia Roja have not been able to reach those same heights again.
After that European Championship title in 2012, Spain have had two exits in the round of 16 and one in the group stages at the following three tournaments. However, it seems that a new golden generation might be brewing under the guidance of Luis Enrique. Their semi-final finish at Euro 2020 with the fifth-youngest squad could be an indicator of things to come.
When it comes to Football Manager, Spain has always been a treasure chest of wonderkids, with clubs like Real Madrid, Barcelona, Atletico Madrid, and Athletic Bilbao regularly producing incredibly talented youngsters. Looking through FM's history, we can still remember gems like Gerard Deulofeu, Bojan Krkic, or Luis Enrique if we go really far back.
FM22 seems to have a lot of high-potential players from the Iberian Peninsula, as well. We've gone through dozens of players to compile a list of what we think are the ten of the brightest young stars that could become the next Fernando Torres or Gerard Pique.
10. Gavi (Barcelona)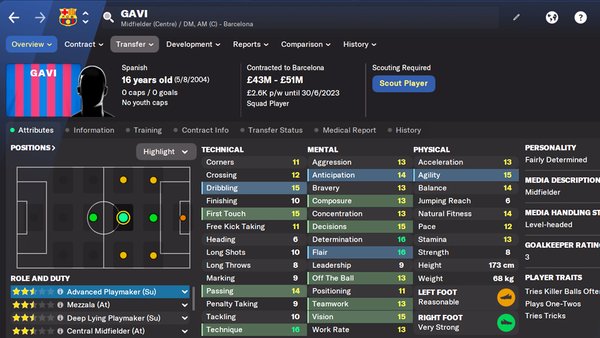 We kick things off with a familiar name and possibly one of the most coveted young midfielders in FM22.
There has been a lot of hype surrounding Gavi ever since he made the jump to Barca's senior team at just 16 years of age at the start of this season. Showing that he's not there just to make up the numbers, the exciting playmaker has made his contribution, bagging two goals and four assists in 24 appearances.
In Football Manager terms, Gavi is a very developed player, with skills far beyond his age. His technique, vision, dribbling, and flair make him a dynamic player that can be the heartbeat of a team and orchestrate a lot of its attacks.
He is already pretty close to his full potential, so there is very little risk involved. If you get him, he will deliver. But to get him, you would have to pay Barcelona a sum between £12.5 - 38 million, which is not exactly a small price for a player that's still in high school.
However, if you're patient and a little bit lucky, you might be able to get him for free. His contract with the Catalans expires in the summer of 2023, which means you can approach him in January. You will face stiff competition, though.