Football Manager 2022: 10 Spanish Wonderkids You Must Sign
9. Bruno Iglesias (Real Madrid)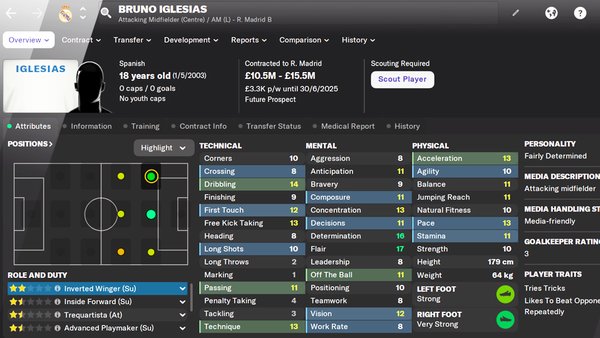 Going from Barcelona to Real Madrid, this is probably what you imagined most of this list will look like. However, Bruno Iglesias is not a name as known as Gavi.
That is probably because Iglesias has not yet made the leap to the men's team, despite being two years older than Gavi. But don't let that discourage you, as he has been widely touted as a future star by media and scouts alike. After noticing him at his local club Santa Marta, Madrid have had to fight off interest from Barcelona, Atletico Madrid, and Pep Guardiola's Manchester City, in order to sign him for their academy.
Playing mostly as an attacking midfielder or a winger, Iglesias' main strengths are flair, determination, fitness, and dribbling. His end product is not quite there yet, so he probably won't bring you a lot of goals in the first few years but if you manage him correctly, he can be a disrupting force around the opposition's box, draw attention to himself, and set up his teammates.
Despite being fairly developed for his age, and being a Real Madrid player, his price has not yet skyrocketed on FM22. He is currently in the range of £5 - 15 million, which is peanuts compared to some of the other players in his position. But we will get to those.