Football Manager 2022: 10 Strikers You Must Sign
9. Ricardo Pepi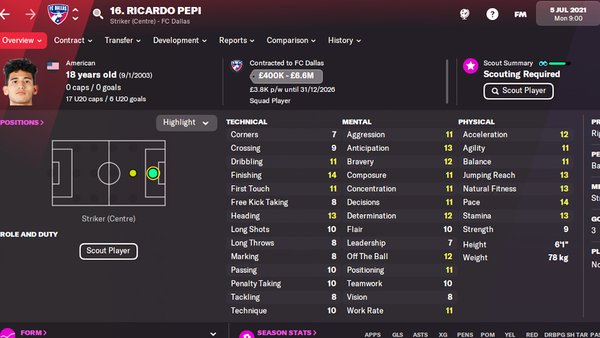 Club: FC Dallas
Nationality: American
Price: £4 million
On the initial version of Football Manager 2022, Ricardo Pepi was actually a totally free agent. Still, even though he's now signed up to FC Dallas, he's somebody who should at least get your scouts to take a detailed look at.
To look at, Pepi doesn't have any stats that jump off the page as being top, top level numbers. What he does have, though, is the potential to hugely improve of those starting figures in a way like few others featured on this list.
At just 18 years of age, this American striker is a player who'll deliver great results for you should you put the time and effort into him. A solid training schedule with excellent coaches, combined with game time in a decent standard reserve league, and you'll soon see that Pepi can improve at an impressive rate from month to month in those early seasons.
For £4 million - or quite possibly less, to be honest - Pepi is definitely worth taking a punt on for those bigger teams who are looking to flesh out their youth ranks with players who could turn into superstars with the right nurturing.