Football Manager 2022: 10 Strikers You Must Sign
Those strikers who'll shoot you to FM22 domination!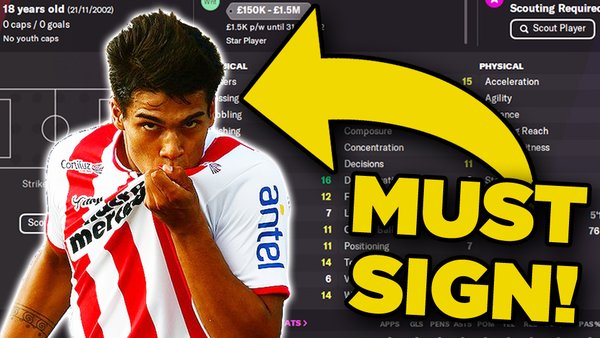 For the Football Manager die-hards out there, you'll have likely been on the hunt for tips and pointers for FM22 since the game released towards the end of last year.
Thankfully, we've had you covered in recent weeks with definitive, detailed lists on recommended signings when it comes to Goalkeepers, Right-Backs, Left-Backs, Centre-Backs, Defensive Midfielders and Attacking Midfielders. And now, well now it's the time of the Strikers to take centre-stage.
As was the case with those other positions, this list is designed to highlight some of the lesser-known forward players rather than simply harp on about the obvious world class options that you'll already be well aware of. So, don't be expecting to see Erling Haaland, Cristiano Ronaldo, Robert Lewandowski, Dušan Vlahović, Karim Benzema, Ciro Immobile and the rest of the big-name, go-to crew.
Here, it's more about giving you a heads-up on some of those Strikers who may slip under your radar, who may not appear to be all that great on the surface, or those good players who you don't think have a chance of becoming particularly elite.
With that in mind, then, here are ten Strikers who are guaranteed to help drive you to success on Football Manager 2022.
10. Giacomo Raspadori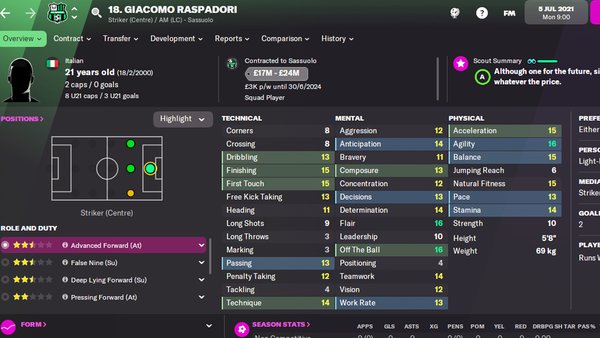 Club: Sassuolo
Nationality: Italian
Price: £21 million
With 0 international appearances to his name, Giacomo Raspadori was a hugely surprising inclusion in Roberto Mancini's Italy squad at Euro 2020. Havin bagged 6 Serie A goals for Sassuolo that season, Mancini saw massive potential in Raspadori - and the player would bag himself a European Championships winners medal as Italy toppled England to win that tournament.
Still only 21 when FM22 starts, Raspadori ticks so many of the right boxes for what you'd look for in a forward player.
Take a look at 15s across the board for finishing, first touch, acceleration, balance and natural fitness, mixed with 16s for off the ball movement and agility, and you can see that this is someone who's a natural, quick, intelligent goalscorer.
Best used in an advanced forward role, Raspadori is also a perfectly suitable option to play off either flank or be utilised in a central attacking midfield spot. Such versatility combined with his starting ability and young age does mean that the Italian will set you back around £21 million, but that's great value for a long-term investment who can help you dominate for a solid decade or more.