Football Manager 2022: 10 Wonderkid Defenders You Must Sign
The backline to end all backlines, right here in list form!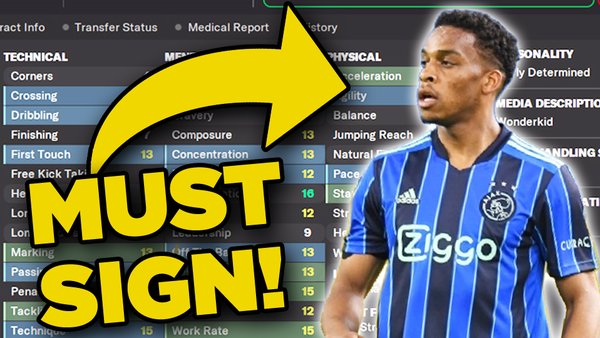 The world is changing.
Gone are the days where defence was a byword for stodgy, tough tackling hard men. These days the fullback is one of the most analyzed positions in the sport, and good centre-backs can often be found waltzing into the midfield with the kind of ball control that a number 10 would have killed for not too long ago.
This is all hunky dory for the overrated "real world", but I can hear you now screaming "how's this going to help me take Gillingham to the Champions League?!"
It's a fine question. One that, for one of the world's biggest sports gaming franchises, requires a little more finesse than just looking at the pitch and seeing who's balling out this week.
Rather than blow your transfer budget and wage packet on a Van Dijk or a Marquinhos, here are ten young defenders whose potential will transform your team!
If you can add even one or two of these prospects to your ranks, you're almost guaranteed years of Football Manager dominance as these defenders become some of the best players on the game.
10. Leonidas Stergiou - FC St Gallen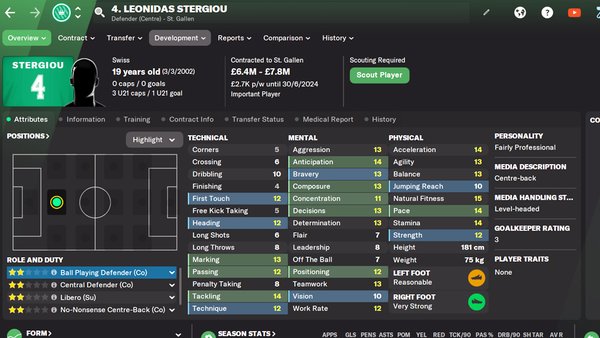 CB - RAT: 60 - POT: 60 to 80
THE META NEVER LIES.
It's true, if you've spent any time at all looking at prospects on the footballing video game of choice for your dad and mine, you'll be fully aware of this cultured Swiss. The long running chart-'em-up by has St Gallen academy kid Leonidas Stergiou one of the highest potential finds in the game.
He starts this list as his Core stats aren't much cop, and it will take time and careful management to bring the best of him out. However once you do, he's one hell of a "before he was massive" find.