Football Manager 2022: 10 Wonderkid Defenders You Must Sign
9. Luca Netz - Borussia Mönchengladbach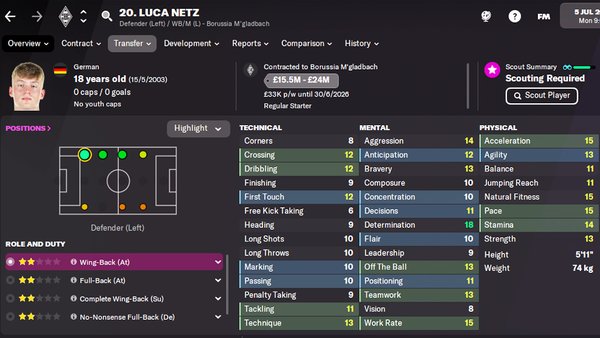 LB/LM - RAT: 62 - POT: 70 to 90
Plying his trade in the least pronouncable club to have ever won the Europa League, in the real world Luca Netz has been a rising star ever since his days in the Hertha Berlin Academy.
One of the bright sparks of an otherwise dull season, the left-back can be found powering his way up his flank with his dribbling skills and terrifying opposing goalkeepers with a wand of a left foot.
In game, his attacking prowess is shown by his versatility, operating just as well as a Left Midfielder than in defence. Jury's out on whether he'll stay in the backline much longer, so get your hipster points and stick him in your team *before* he was a winger!