Roccat Vulcan TKL Pro Review
At the speed of light, Roccat's new TKL keyboard is masterful.
As a PC gamer, I'm always on the lookout for new hardware, as any PC player will tell you, your battlestation is never finished. Enter Roccat with their new Vulcan keyboard line, and more specifically in this case, the Roccat Vulcan TKL Pro. I'm a big fan of smaller form factor keyboards, and a TKL, or 'tenkeyless' layout is perfect for me. I have no need for a numpad, but god forbid I lose my arrow keys.
The Vulcan TKL Pro is built on an extremely solid, aircraft-grade aluminium base, with barely any noticeable flex. The underside is hard plastic, with easy access to all the screws by the looks of things, no need to remove any rubber feet to take this thing apart if you needed to. Speaking of rubber feet, you have three wide feet at the front of the chassis, with two on the flippable feet at the back, a pair visible when the angled feet are down, and a pair when the feet are up. So at whichever angle you like your keyboard, this thing isn't going to be slipping around.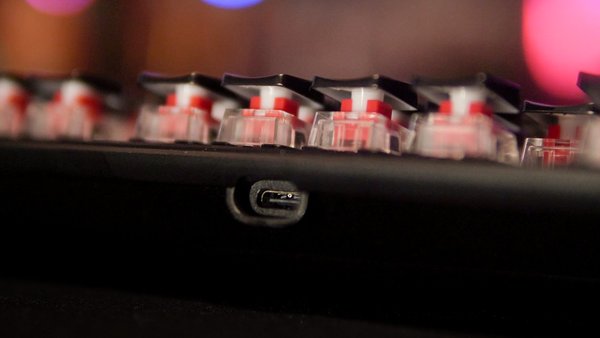 Connectivity is via a removable USB type C connector, which is slightly offset to the left of the keyboard- not sure whether that was a conscious design decision, but it's nice to see, since some manufacturers are still sticking to the now almost archaic micro USB. The cable itself is braided, just shy of two metres long, has a nice Velcro cable tie built in for when you need to keep things tidy, and the type A connector features a keyboard icon, so you know what you're unplugging when fumbling behind your PC. The keycaps are a low profile double shot smooth plastic, which could lead to an oily, shiny look after constant use, and are slightly contoured so that your fingertips are drawn into the centre of the keycap. They use a beautifully clean typeface (no gamer-y fonts here), and the secondary functions of particular keys, though not as bright as their default counterparts, are still mildly translucent, meaning you can still see where your punctuation and print screen controls are in the dark. There are also the usual small notches on thel F and J home keys, but also on the W, as this is a gaming keyboard after all.
[Cont.]