Roccat Vulcan TKL Pro Review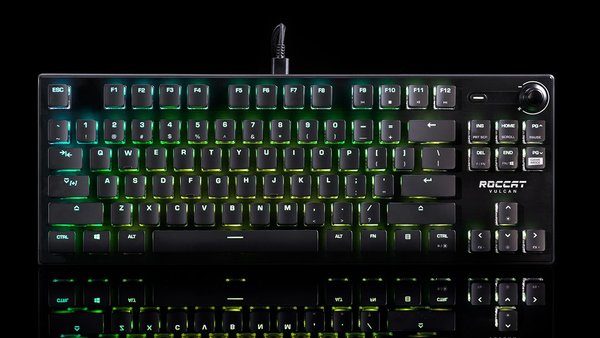 Of course, there is RGB involved. The lighting is per-key, and thanks to the open nature of the chassis, it is extremely bright, even when against the black aluminium base. You can switch between some simple lighting profiles with the FN and arrow keys out of the box, though you get much more customisation options through Roccat's Swarm software. You can recolour individual keys, create entire profiles, even add certain animation effects to set keys, so your WASD keys could remain solid while the rest of the board breathes, which is a nice touch.
The switches in play on the Vulcan TKL Pro are Roccat's own Titan Switch Optical. A linear switch (so no tactile bump or loud clicks), that have a 1.4mm actuation distance, so they're pretty quick on their feet. Plus, thanks them being optical switches (meaning it's activated by the switch blocking a beam of light to register press), each key has a lifespan of 100 million keystrokes, which is (on average) double that of a normal mechanical switch. The keycaps are removable, and the Titan Switch Optical does use a usual MX stem, so if you wanted to swap out the keycaps, you are absolutely able to. It does have a standard bottom row if you wanted to do this which is nice, but because the caps are quite thin, be careful when removing them, as a) they could go flying, and b) you could break them if you're a little too rough. Typing and gaming on this keyboard feels fantastic. The switches have nice and smooth, consistent travel, and the shorter actuation distance means that when gaming, your key presses really do feel almost instantaneous. However, because you have more visible gap between the caps, the spacing feels a little wider than what I'm used to, so I did find myself getting my fingers wedged between the keycaps at times.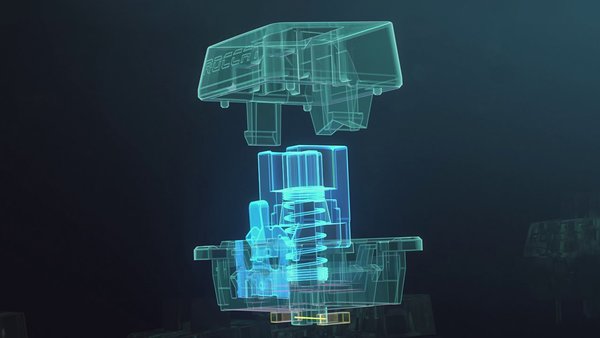 Even with keycaps so thin, Roccat have really made an effort to stabilise the larger keys properly, and they've succeeded, as there's only a minimal amount of wobble on them. A firm shake of the keyboard and you don't hear any keycap rattle, which is awesome. Also on the board is a volume wheel with great tactility, and a mute button next to it- but there are no dedicated media controls. They've been relegated to a function layer on the F keys, but for a TKL form factor, this isn't a huge surprise. There are also no discrete indicators for Caps Lock, Scroll Lock, or the included Game Mode functionality. Instead, the key illuminates in white to show that it's active. You don't have any control of this 'active' colour in software, so if you like to have your keyboard illuminated in solid white (like I do), you're not going to know whether caps lock etc is actually on, which is a problem- provided you want that pure white aesthetic.
[Cont.]