The Last Of Us 2: 11 Perfect Theories That'll Blow Your Mind
10. Part Of The Game Will Be Flashbacks To Anna's Pregnancy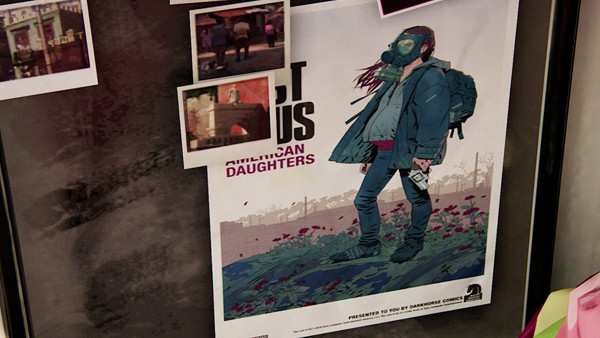 If the character is indeed Anna, then there's a good chance that players will be following her pregnancy up until Ellie's birth. The trailer grimly alluded to the character's pregnancy, focusing on the threat of the blade being plunged into her stomach while having a main cultist ominously pointing towards her abdomen and saying "they are nested with sin".
Further fuelling the fire is that recent posters have been more revealing about the game than initially thought. The first poster with Ellie's newly-tattooed arm holding a switchblade hinted towards her new appearance in the first reveal, while the Outbreak Day poster of an arm holding a hammer was taken directly from the latest trailer.
Consequently, the poster that was teased in Uncharted 4, The Last of Us: American Daughters, could have been more than a throwaway easter egg.
While most people thought the woman in the poster was Ellie, the fact that she's wearing a gas mask (Ellie is immune to spores) and pregnant (unlikely considering that so far the character has only been attracted to women), could indicate that it's actually Anna.
Combined with the hints from the new trailer, it looks like at least a portion of the sequel will cover Anna's pregnancy, perhaps leading up all the way to her eventual death.