Universal Studios Hollywood's Super Nintendo World Review - 7 Big Talking Points
Everything you need to know about hanging out with Mario, Luigi and Princess Peach.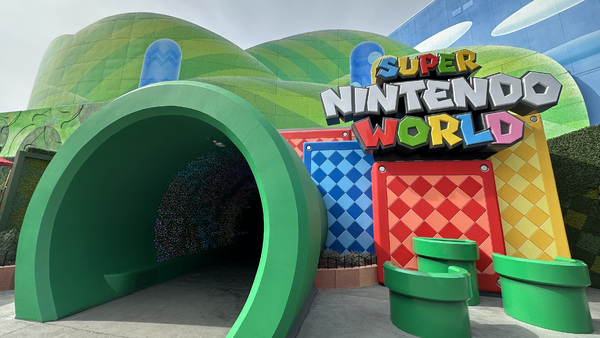 Opening its doors to the world on 17th February, Super Nintendo World at Universal Studios Hollywood takes you into the heart of the Mushroom Kingdom.
After being announced in 2016, fans can now finally experience the world of Mario, Luigi and Princess Peach. In the new park's new land you can race in your very own Mario Kart game, grab yourself a delicious snack at the Toadstool Cafe and pick up a hat just like the Mario Bros. from the 1-Up Factory.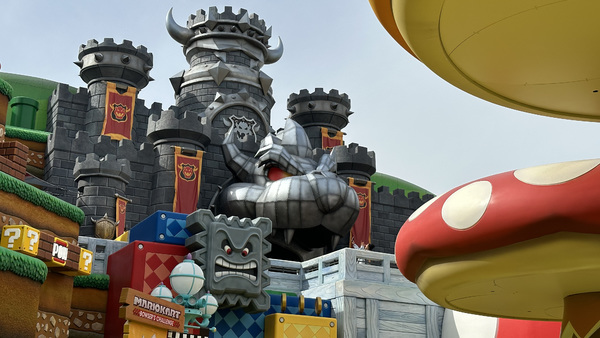 Universal Parks and Resorts have brought Nintendo to life by making the whole land part of a true gaming experience. With a Power Up Band you can join in all the hidden fun. As you explore you can collect coins, seek out keys and even take Bowser Jr in boss battle. All this whilst competing with your friends, family and the rest of the land's guests to see who is the best.
The new land is one of the most anticipated experiences for gaming fans, we wanted to make sure we knew everything that you might want to know about the land of Mario, Luigi and Princess Peach.
So here's our review about Universal Studios Hollywood's Super Nintendo World...
7. The Land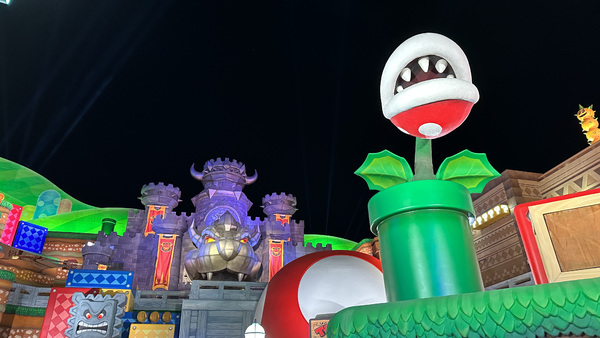 We first saw Super Nintendo World as it was lit up at night as part of a spectacular launch event. After entering Princess Peach's Castle through a glowing Warp Pipe; the towering Mount Beanpole seemed huge. As did the giant Piranha Plants. But no matter how cool Super Nintendo World looks at night, its truly at its best during the daytime when its colourful landscape pops against the California sunshine.
Super Nintendo World is everything you could expect from a land based entirely on a game. It's totally immersive. The bright colours and familiar music makes you genuinely feel like you have fallen right into a Super Mario game.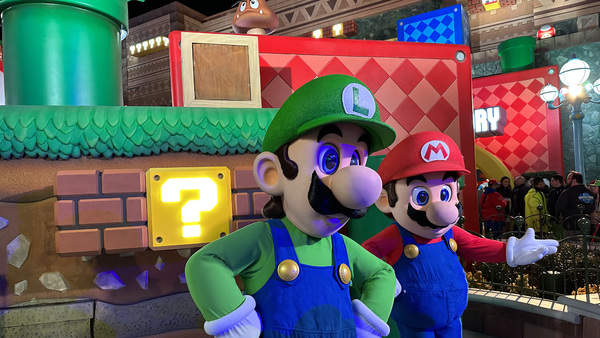 When we asked Show Producer Abbye Finnan about getting the balance right for those mega fans of the games and those who might perhaps be experiencing the franchise for the first time at Universal Studios Hollywood, she told us that "the world is so rich that you get drawn into it...when you start playing Mario you don't necessarily know the rules you start playing and figuring it out as you go along and that's what we tried to provide for the audiences here... the opportunity to explore."
Universal have done an amazing job at creating a world that is completely explorable. There's so much to see and discover that you could spend hours and not discover everything. There's hidden Easter Eggs for mega fans, and things that even those who don't know much about Mario can find and enjoy.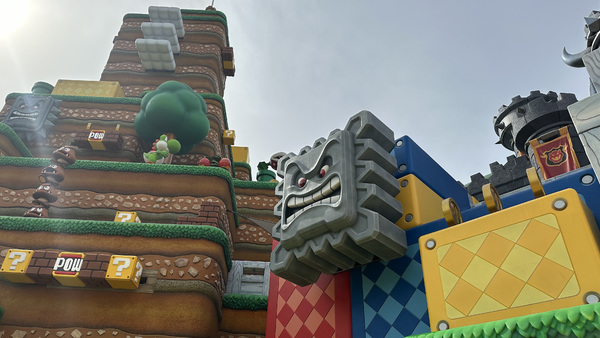 The detailed map in the Universal Studios Hollywood App can help you discover some of the land's hidden details. But even if you don't find yourself searching for all the 8-bit characters and trying to unlock all the stamps in your sticker book, there's so much to do.
Fans of Mario and Luigi can meet the brothers right in the centre of the land, whilst Princess Peach has her own meet and greet spot closer to her castle. The characters so talk to you and unlike many other costume characters their eyes and mouths move making for a more natural look. We heard fans praising how great these more interactive characters are and for them it was a huge part of why they enjoyed the land.
The interactive games (more on these later) will help keep you in the land and provide fun challenges for your whole party. The queue for the Mario Kart: Bowser's Challenge takes you into the heart of Mount Beanpole into the land of Yoshi and straight into Bowser's Castle.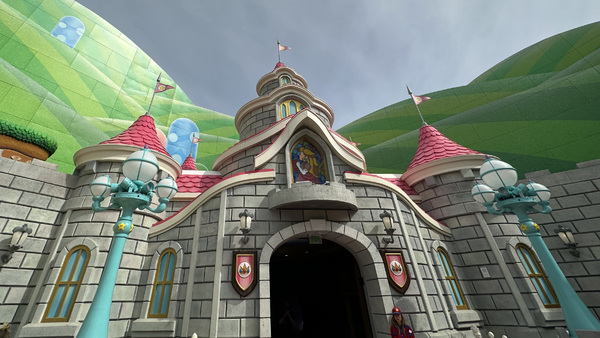 If you make it to the final level of the Key Challenges and face off with Bowser Jr then you also get to see inside his lair, filled with graffiti and props.
Super Nintendo World at Universal Studios Hollywood is small, and in recreating the same yet different version of the Japan park's land a ride has been removed and an interactive game lost. However, what Universal have done with the space is incredible as they have managed to pack a lot into the space. There's ways to go up and see the land from above with special AR binoculars. There's Question Mark Blocks hidden around the land for you to find.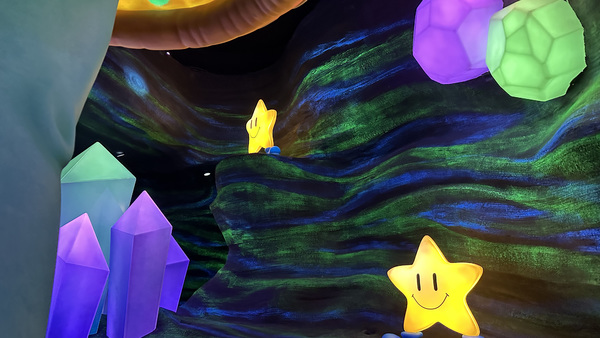 Everywhere you look there are Goombas waddling along, Fire Flowers and the cutest Yoshi. The land is even home to some characters that don't even come from the Super Mario games.
Super Nintendo World will blow away any fan of the games and may even make new Nintendo fans for those who have never played before.