WWE 2K19 MyCareer: 7 Things You Need To Know
5. Your Character Claims He's Too Good For NXT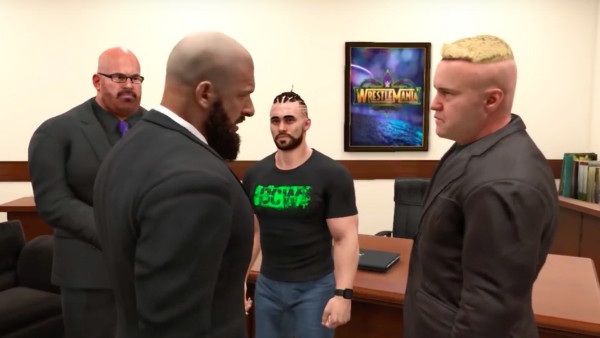 At one point in the trailer, a baffled Triple H strokes his chin when watching the CAW's home-made promo video. 2K's rent-a-wrestler has the WWE COO rattled when he arrogantly says WWE should listen to their audience and send him "straight to the main roster".
Slow down, indy darling, if NXT was good enough for Finn Bálor then it'd good enough for you.
In all seriousness, this is another interesting plot point from 2K. Other footage shows the CAW, the owner of BCW, WWE Performance Center trainer Matt Bloom and Triple H meeting in the latter's office. Knowing WWE video games, this will lead to some sort of backstage brawl, or become a hub during early matches.
The scene somehow conjures up images of Barry Blaustein's Beyond The May documentary. Remember when portly indy promoter Roland Alexander led Mike Modest and Tony Jones to a dark match tryout before Raw? That's the kind of atmosphere this has, and it'd be awesome if 2K19 mimicked it.