10 Biggest Surprises In WWE Elimination Chamber History
4. Shawn Michaels Attacks The Undertaker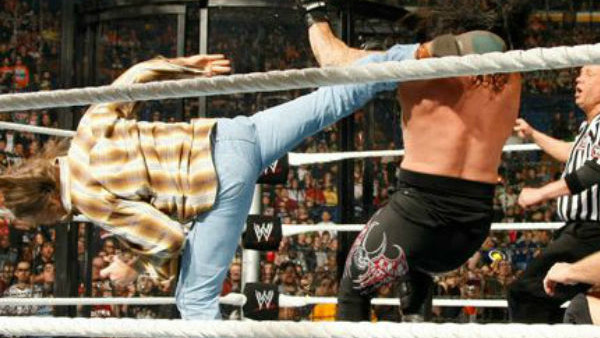 Interferences can sometimes be another unwelcome surprise. In this case though, I think we can make an exception.
In the leadup to WrestleMania XXVI, Shawn Michaels was desperate for his Undertaker rematch. His premature ejection from the Royal Rumble had seemingly laid waste to those hopes, but Michaels still had one trick up his sleeve.
With The Undertaker defending his World Heavyweight Championship inside the Elimination Chamber at the 2010 PPV, Michaels knew if he could cost the Deadman the belt, he'd not only remove 'Taker from the title match at WrestleMania, but he'd most likely have irked him enough to bait him into a rematch.
That being said, it's not too easy to interfere in an Elimination Chamber match. Ever undeterred, though, Michaels improvised by coming up through the floor a la Han Solo in the Millennium Falcon, superkicking The Undertaker to hand him defeat and set up the greatest rematch in WrestleMania history.
That shot of a remorseless Michaels standing over 'Taker's body was the perfect closing shot to a really well-run interference.