10 Craziest Things That Ever Happened After WWE SmackDown Went Off The Air
Just because the cameras stop rolling, doesn't mean the action stops too.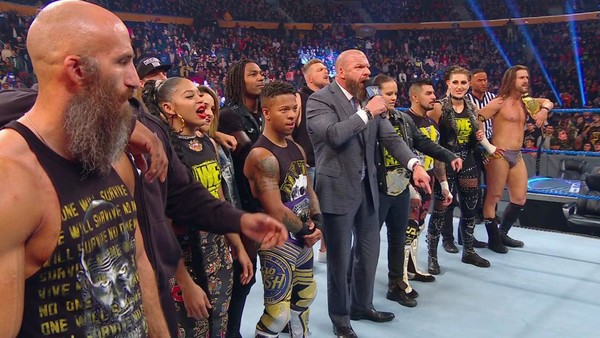 The word "Dark" existed in wrestling long before AEW borrowed the phrase for their YouTube show.
A "dark" match or segment is one that happens either before or after a TV taping; something that is purely for the crowd in attendance.
There have been plenty of memorable things to take place off-air in WWE. During the Attitude Era, The Rock would regularly treat live crowds to some shenanigans after Raw finished, including one incident where he got The Undertaker to talk about "Poontang Pie".
But why should Raw have all the fun? What about the matches and moments that went down after SmackDown stopped being broadcast?
Despite being much younger than its Red cousin, SmackDown has played host to plenty of great WWE moments and that includes when the cameras are turned off.
The following ten incidents all took place during dark segments after the main show finished. Whilst some were captured on film by those in attendance, some exist only in myth and legend, verified by the stories of crowd members that night.
Comedy, drama, romance, it's all here in this list of moments you weren't supposed to see after SmackDown wrapped up.
10. A Stunning Conclusion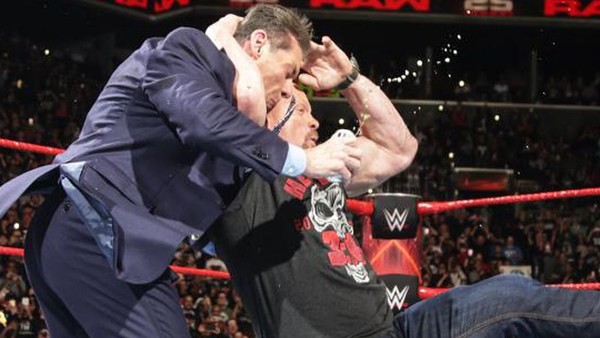 How many times have wrestling fans heard the sentence "And then Stone Cold gave Vince McMahon the stunner?"
Ever since Steve Austin first hit his signature move on Vince in 1997, The Chairman has hit been with dozens, if not hundreds of the moves across the two men's famous rivalry and beyond.
Why is it shocking then that, after the 31 January 2002 episode of SmackDown went off air, Austin planted Vince with yet another Stunner? Well, it's because he'd literally just hit Vince with one to close out the show.
During a segment where Ric Flair was about to sign over control of Monday Night Raw to McMahon, Austin came out and objected to the deal in a way only he could, by planting Vince with his finisher.
Then, as the cameras turn off, Austin decided to send the live crowd home even happier than they already were and stunned Vince again. Don't you just love a bit of workplace violence?
This was a great touch to make the audience in attendance feel really special. Also, when you consider that Austin was winding down his in-ring career, this is probably one of the last Stunners he gave to Vince as an active wrestler.