10 Stupidest Things WWE Superstars Have Done In 2021 (So Far)
Lessons in love, time management and...goo as WWE relish making a few stars suffer...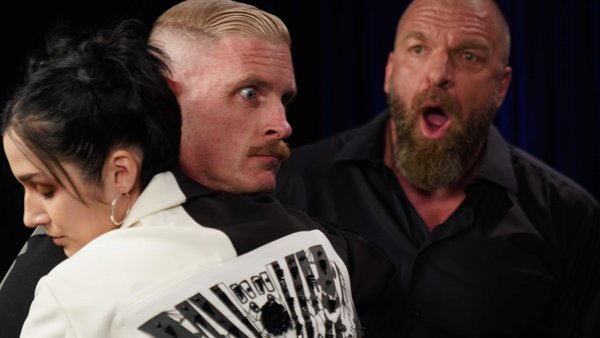 Are WWE chasing fans away before they've even got them back?
The wrestlers themselves certainly seem excited to be working in front of crowds again, and if the teasing glimpses of a new old normal provided by WrestleMania 37 and AEW Double Or Nothing are reflective of anything, it's that people are desperate to get (and stay) back in the buildings too.
Why, then, must the industry leader book characters with such ludicrous disregard for what those ticket-buyers might actually like to see?
The continuing misadventures of Lilly the doll seem to reflect some sort of nadir for many, but we have reached a point in company history where the phrase "after a particularly awful Monday Night Raw" could now be applied to almost any week of the year.
The idea that the former flagship could ever be good again feels like a folly - a ludicrous concept peddled by panicked Fiend fans, those that won't admit what they really like about the Alexa Bliss character, or those born into missable Mondays in the mid-2000s, several years deep into the McMahon monopoly.
It's been nearly a decade of three hour Raws and they still haven't learned how to format them, let alone save characters from themselves. Most of the performers are very clearly doing their best, but what chance have they got when this dreck is what they're handed before showtime?
10. Egde Whinges His Way To Losing His WrestleMania Singles Match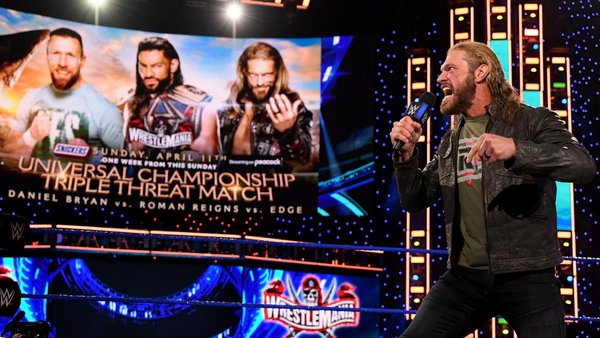 The enormous response Edge received from the socially distanced WrestleMania 37 crowd spoke volumes about just how beloved the 'Rated-R Superstar' still is.
It was easily forgotten on the way to the 'Show Of Shows'.
His 2020 Royal Rumble return may as well have taken place weeks after his 2011 retirement, for all the pandemic played with time and space. The poor f*cker killed himself for nine years to earn that response, but had the rest of his plans torn up by an ongoing global b*stard that...sort of turned him into one.
With nothing but pop.wav to greet him the following year, Edge was given a surprising Royal Rumble victory as a makegood for a year gone slightly askew. Gritty Growly Adam was a little bit vanilla, but darker developments were afoot that seemed destined to get him booed by the time the company reached 'The Grandest Stage'. After negging Drew McIntyre on Raw and Finn Bálor and Pete Dunne in NXT, Edge chose SmackDown's Roman Reigns, but then became so obsessed with a match he had a golden ticket for that he got annoyed at a possible change of opponent.
WWE never addressed why this was, instead electing to weave Daniel Bryan into the conversation just to find a way to logically add him to the match. It was morbidly fun to watch things seemingly slipping from Edge's grasp as if they were strands of his own hair when he sets up a spear, but it just about killed any chance he had of winning the big one. He'd gone from Royal Rumble winner to third man in his own guaranteed title shot, and seemingly done it all himself.