10 Times WWE Marketing Was Pure BULLSH*T
8. Billionaire Ted's Wrasslin' War Room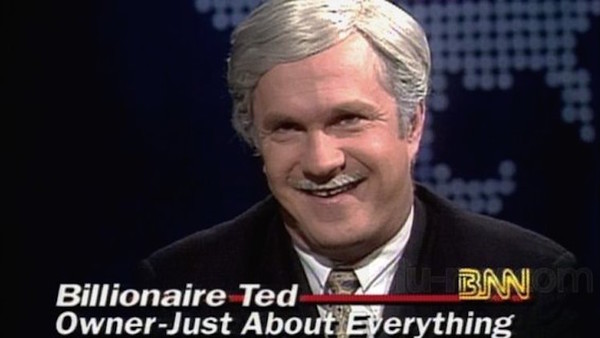 About as defensive as legendary centre-half John Terry angrily telling you that, no, that wasn't his mother in that Twitter video, the WWF's Billionaire Ted skits were genuinely pathetic in premise and execution.
Vince conceived them in a fit of pure, jealous petulance. Moreover, it was all rankly hypocritical, too; WCW had simply repeated his 1980s trick, of offering the most money to the biggest names, and stole the buzz away from the WWF in the process. The spiteful, insider (nominal) humour bemused audiences and framed the WWF as minor league. This doubled as an expansion of the Federation's futile 'New Generation' drive, which garnered much critical acclaim, if not sustainable revenue.
The skits took aim at Ted Turner and apparent decrepit turncoats Gene Okerlund, Hulk Hogan and Randy Savage (b. 1952), who was booted out the door mere months after calling a main event match between Roddy Piper (b. 1954) and Jerry Lawler (b. 1949). But it was the WCW dinosaurs who were old, and boring, and incontinent (obviously), not the young blood of the WWF, who in this PR stunt were framed as the meteorites.
One such falling rock was, yes, Golden Era star the Ultimate Warrior (b. 1959), who trounced young blue blood Hunter Hearst Helmsley in under two minutes at WrestleMania XII.