6 Ups And 1 Down For WWE NXT (Mar 31)
Which WWE stars made an almighty statement before NXT TakeOver: Stand and Deliver?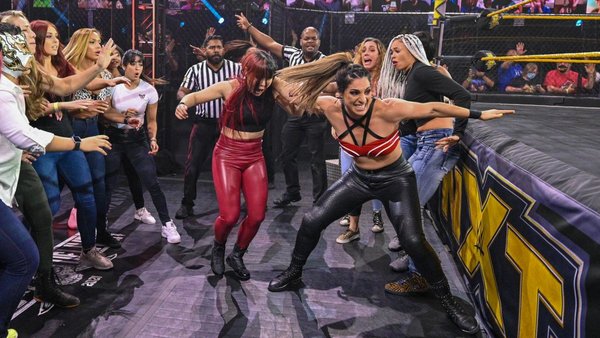 Would you believe it? The last non-TakeOver edition of NXT has now ridden off into the black and gold sunset. And oh what a run it was...
...well, not really if you're talking about ratings success and regularly besting the opposition on TNT - both of which were a painful rarity for Triple H's baby over the last year or so. But, we'll always have Keith Lee winning the double-whammy and Dexter Lumis frequently abducting helpless colleagues. It may be best to forget the latter, come to think of it.
Signing off on Wednesday nights with an almighty bang, though, NXT's go-home to Stand and Deliver show delivered a show-long brawl between the two most dominant women in the brand's USA history, a hype package capable of convincing even the most soulless of WWE fan to invest in the Peacock network, and a riveting battle royal with almost as many rules as competitors.
It wasn't all vicious beatdowns and Undisputed trunk reveals on this week's show, however, as NXT still found a way to deliver a Sports Entertainment shaped kick in the d*ck in the form of the once-resurrected Xia Li being overshadowed by her master's terrible breath.
But, we'll cross those soul-crushing bridges when we get there. For now, we merely offer a salute to a Wednesday Night War which, in truth, had been something of a massacre for longer than WWE cared to admit...