Asuka Vacates NXT Women's Title - WWE Main Roster Awaits
Injury ends historic reign.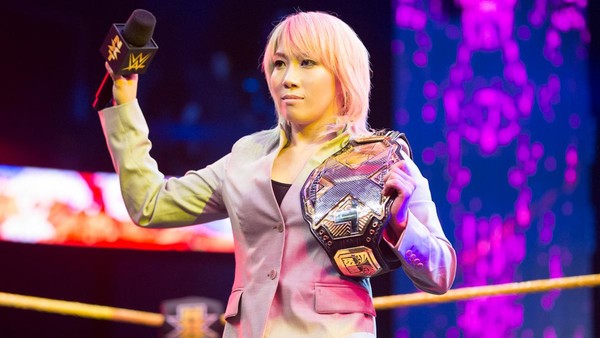 Update: It has now been confirmed that Asuka has stepped down as NXT Women's Champion. She vacated the title on a forthcoming NXT episode that was shot last night at Full Sail University.
An angle was played out where it was revealed Asuka is in talks with both Raw General Manager Kurt Angle and SmackDown GM Daniel Bryan over a contract for the main roster for when she recovers. As per the report from LordsOfPain.net;
The NXT roster then came to the stage to say farewell. Asuka said wherever she goes, NXT will go with her. Moon then came out and offered a handshake but stopped and hugged Asuka instead. Triple H then came out and presented Asuka with a bouquet of flowers. Triple H took the title and introduced Asuka one final time as the undefeated, 523 day reigning champion. Asuka took her bows and posed with Triple H on the stage to end the tapings.
WWE confirmed this week that NXT Women's Champion Asuka would miss between six and eight weeks of action thanks to a collarbone injury sustained in her outstanding TakeOver encounter with Ember Moon.
Another breathless brawl in which the challenger came as close as anybody yet to dethroning the untouchable queen, their match was the best of a rewarding Saturday bunch and arguably of the entire four days spent at the Barclays Center.
However, new concerns emerge in its aftermath.
Firstly, will WWE use this specific recovery time as a way to take the belt from around 'The Empress Of Tomorrow's waist? Though not always adhered to, the company has previously utilised the vaunted '30 day rule' to justify forcing a champion to surrender their gold, with Naomi an example of somebody just this year made to make that upsetting concession despite defying doctors to make it back in time for a WrestleMania reclamation.
It would be a crying shame if Asuka's 500+ day reign ended in such a fashion. Not since CM Punk has a long-standing tenure carried such weight, and not since Trish Stratus has such a feat occurred in the women's division.
However, an end does eventually have to come. Challenging to tackle, if the conclusion is handled well it will ensure her immortality. Coped with poorly, and her entire streak will be reduced to derision not seen since Scott Hall and Kevin Nash colluded to defeat Bill Goldberg in December 1998.
Just who is ready for Asuka?
6. Upward Momentum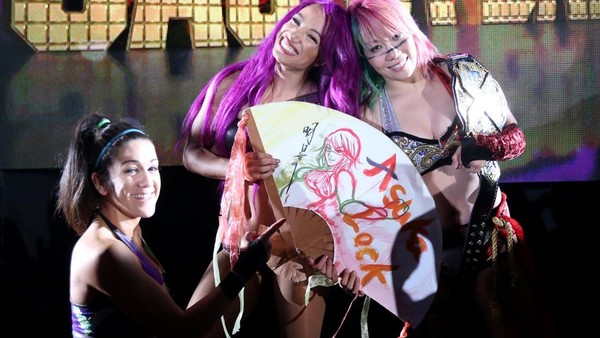 Perhaps her primal wail earlier this year was correct. Maybe really nobody is ready for Asuka.
In Ember Moon, NXT had just about generated a new performer that almost found a level with the reigning champion, or did enough so to make her two attempts at the title seem not completely inconceivable. Beyond 'The War Goddess', she has dominated all in her path.
Sanity's Nikki Cross was put to the sword in an outstanding NXT television clash, whilst Liv Morgan, Peyton Royce, Billie Kay and Ruby Riot merely happen to exist in Asuka's orbit, not ever really standing a chance of planting their flag.
At this point, the only credible contenders are on the main roster. By virtue of its elevated status, the females that currently compete on either Monday Night Raw or SmackDown Live! do, in theory, have the pedigree to take down the unbeatable doyen of the division.
That said, several active members of those rosters have already tried and failed in their past-life on the developmental brand. With even those talents falling short, WWE may have to consider repeating the actions they took when then-NXT Women's Champion Paige unseated WWE Divas Champion AJ Lee in her first televised appearance.
Keeping her streak alive despite punctuating the title reign, stripping Asuka of a belt she could never possibly lose may actually get WWE out of trouble, especially if she were to scoop either brand's top title in the same way the Norwich 'Anti-Diva' did.