Brock Lesnar Receives HUGE Fine On WWE SmackDown
WWE's kayfabe financial penalty for Brock Lesnar was eye-watering stuff on SmackDown.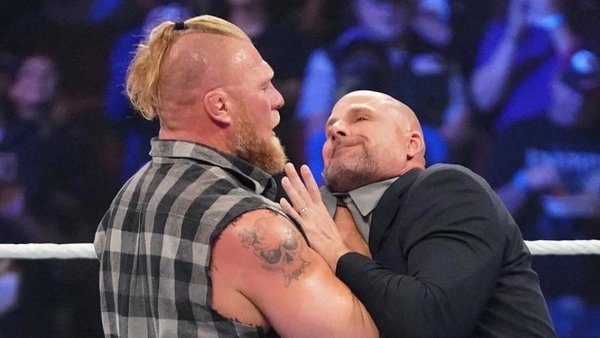 WWE fined Brock Lesnar a staggering $1 million on this week's episode of SmackDown.
Acting authority figure Adam Pearce delivered the news from home during a segment on the show - he called Brock's storyline attack seven nights before unacceptable before handing out the heavy penalty. Obviously, this is a work, but it's a good thing that WWE decided to make the punishment large.
Wrestlers are fined paltry sums like $1,000 or $10,000 far too often, and it rarely makes sense when viewers are told that they're lavish "superstars" who earn vast fortunes. Besides, everyone knows that Brock is a wealthy man, so it was important for creative to make the financial hit feel substantial.
Lesnar, who was suspended on last week's show, didn't appear to apologise or accept the fine. He likely won't be seen on WWE TV until January's Royal Rumble at the earliest. This was the company's way of writing him off television until then, and it clears the path towards more Raw vs. SmackDown shenanigans at Survivor Series.
Brock's issues with Roman Reigns and Paul Heyman have been put on ice.
Create Content and Get Paid
---