Why Bray Wyatt Was Worried About Working With R-Truth In WWE
R-Truth says that Bray Wyatt had reservations about working with him in WWE.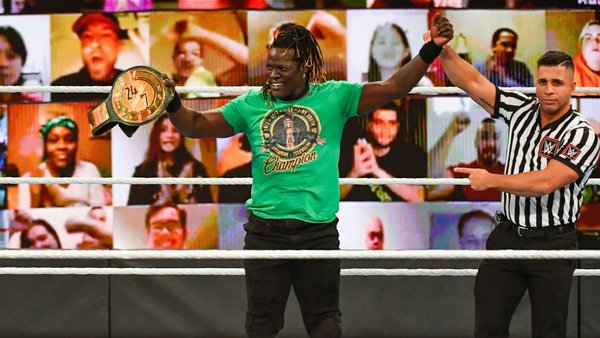 R-Truth has made everyone from Vince McMahon to Brock Lesnar laugh in WWE, and he's not done yet.
The clown prince of the 24/7 Title division told Sports Illustrated that he's endlessly grateful the company let him be himself on camera - Truth loves entertaining fans and "making people feel good", so he's still having a blast as calendars turn to 2021.
During the interview, Truth also revealed that Bray Wyatt was hesitant about working with him a few years back. Bray's concerns were simple: Truth is funny, and he was concerned that he'd corpse on live TV despite being a spooky heel.
Rather hilariously, Truth said, "Don't worry, I won't do anything to make you laugh". Already laughing, Wyatt shot back with, "Just saying that made me laugh". He was deathly afraid of breaking character and giggling his way through a segment with the prankster on Raw.
The pair ended up working some skits and matches together, and Bray managed to hold it together. Truth told SI that it was a bit of a struggle to even get to that point. Wyatt was that worried.
Create Content and Get Paid
---