10 Best Indie Video Games Of The Month (April, 2021)
2. Rain on Your Parade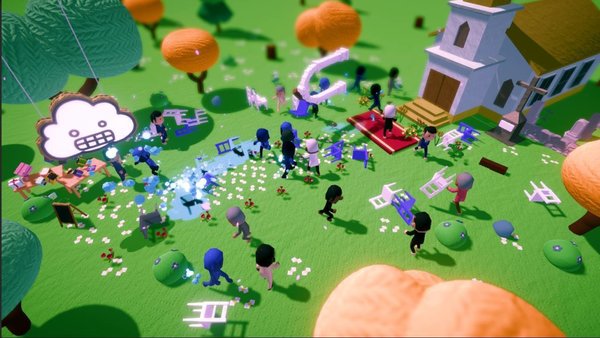 Oh, to be a happy little cloud causing chaos by raining, snowing and meteor-ing its way over unsuspecting victims.
In another indie following the troublesome antics of a cutesy inanimate object, this game features a little more than tax evasion as your naughty ball of water vapour proceeds to make anyone's lives on the Earth's surface a living hell.
Rain on Your Parade is extremely accessible in how you want to play. You can explore at your own leisure, rain down absolute mayhem at every opportunity, or even try to reach a high-score spot on the online leaderboards. Furthermore, Rain on Your Parade is stuffed full of Easter Eggs and pop-culture references guaranteed to whet your appetite.
What's happening on the ground is just as crazy as the hell you drop onto civilians. Parades, marriages, and prehistoric dinosaurs are all cast asunder at the click of the button. Whether you're showering down acid rain, flammable oil, or bread, do it with style in Rain on Your Parade.