10 Upcoming 'Souls Like' Games To Play After Dark Souls 3
8. Death's Gambit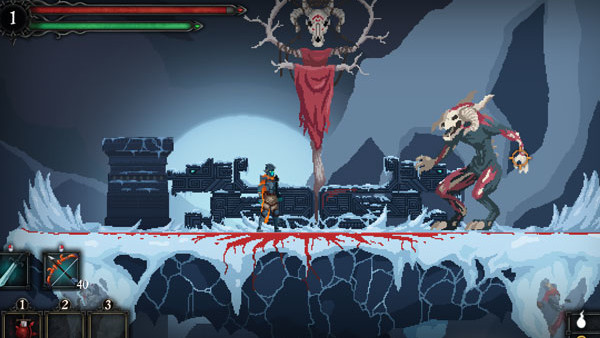 Hands up if you've had enough of that crisp-pixelled Castlevania style of graphics. No one? Nope, me neither. Pixel art done well is a thing of timeless beauty, and Death's Gambit fits that mould.
Despite its allusions to Castlevania and 2D presentation, Death's Gambit's is much more 'Dark Souls', with a stamina bar and dodge-rolling mechanics that give it a similarly tactical feel. Even the slowly fading-in text when you get killed - reading 'Death Takes You' in big old-timey fonts - feels like a Souls tribute.
But there's more to Death's Gambit too than 2D Souls mimicry (a word I can no longer dissociate from carnivorous treasure chests). There are plenty of fast-paced platform sequences breaking up the tense combat encounters, with one particularly spectacular scene showing the hero grapple-hooking his way up some kind of Titan - which we'll hopefully get to see plenty more of.