11 Mind-Blowing Facts You Didn't Know About Final Fantasy XV
After 10 years, they were going to break at least one world record...
Breathe a huge sigh of relief, as after what feels like an eternity (around 10 years to be exact, but more on that later), Final Fantasy XV has dropped, and might just be the finest entry in the franchise since Final Fantasy X - maybe even the mighty Final Fantasy IX.
Accompanying a four hero-strong party with you as Prince Noctis is a revamped XP system where you're no longer levelling up after every battle, instead 'banking' your experience at the end of a good day's questing and monster-hunting.
Magic, too, has been upended, now reverting back to three elemental 'base powers' (Fire, Lightning and Ice) which can be remixed and crafted, rather like the Magicka games. Combine an area-of-effect ice attack with a healing buff, for example, and you'll be able to heal all of your team at once whilst freezing the opposition.
It all takes a little getting used to, but thanks to a myriad of things included within its 'gas-stations-meet-giant-monsters' aesthetic, the hearty banter between Noctis and his crew and the gorgeous open-world itself, Final Fantasy XV could be a very late entry for Game of the Year.
With all that said though, what are the best stories, facts and insights from the last 10 years of development? Well...
--
11. There's One HELL Of A Final Fantasy VII Callback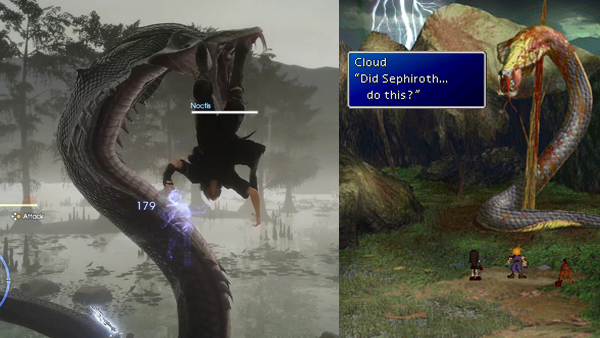 We don't tend to discuss the more overtly 'horror-ish' moments of FF VII, but that first time you see Sephiroth's doing at the Shinra HQ proved he was a force to be reckoned with. Then you spend hours losing to the fearsome Midgar Zolom; a giant swimming snake that'll decimate your party in seconds - only to emerge on the other side of a body of water and discover ol' Sephers has slayed one like it was nothing.
FF XV calls back to this iconic moment with a far smaller version of the same snake, discoverable when you take part in the fishing mini-game at certain spots in the world. Thankfully, this time you can take it down without having to dart off and find a Chocobo first.
Scott Tailford
Gaming Editor at WhatCulture. Wields shovels, rests at bonfires, fights evil clones, brews decoctions. Will have your lunch on Rocket League.
See more from Scott