7 Shocking Video Game President Cameos You Totally Missed
5. Barrack Obama - Mercenaries 2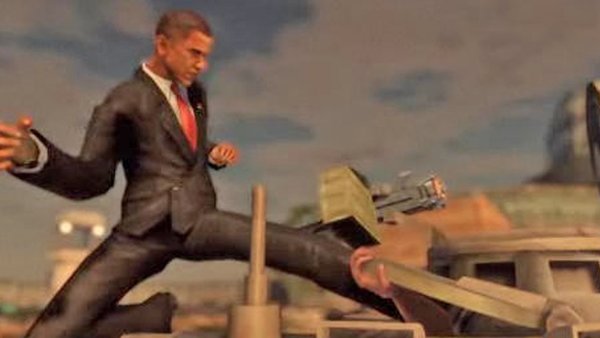 Oh, Pandemic Studios. How we still miss you.
Gifting the world such titles as the outstanding original Star Wars: Battlefront games, Destroy All Humans, and the highly underrated Full Spectrum Warrior, the studio seemed to be an idea factory with the Midas touch, however, thanks to EA arriving on the scene and gorging itself we soon saw Pandemic flushed down the toilet.
Still, we can always remember the good times, such as PLAYING AS THE 44TH PRESIDENT BARRACK OBAMA IN MERCENARIES 2 AND BLOWING THE EVERLOVING s**t OUT OF EVERYTHING.
In what seems like a fever dream, Pandemic really did create a double pack of DLC's that allowed you to play as Barrak Obama or Sarah Palin and wreak explosive justice wherever you saw fit.
There's nothing quite like witnessing Obama add to the already swollen waiting lists for medical care as he kicks the piss out of soldiers, detonates chain explosions that wipe out entire bases, and then escape on this game's version of Air Force 1.
Now to be clear, at the time this DLC was released he wasn't actually the president, but to look back on this with hindsight makes for some truly surreal gaming moments. Oh and if that's not enough for you, Mr Obama also appeared as a guest character in the Shaq Fu: A Legend Reborn game!