Football Manager 2022: 10 Defensive Midfielders You Must Sign
9. Patrick De Paula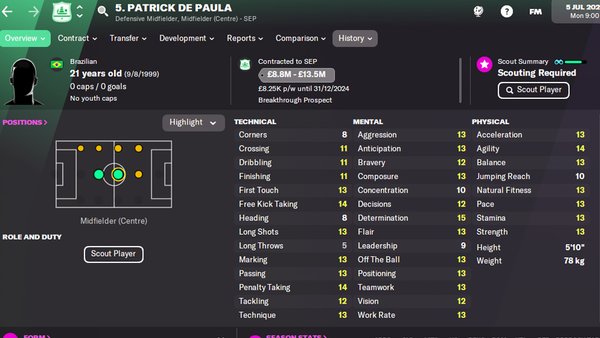 Club: SEP
Nationality: Brazilian
Price: £12 million
As has long been the case with the Football Manager series - and even going back to the latter days of the original Championship Manager - the Brazilian league is one forever full of wonderkids waiting to flourish into global megastars.
In Patrick de Paula, you have yet another one of these hot young Brazilians who are destined to become the next big thing of the beautiful game.
While it's easy to get swayed by a rapid Brazilian striker, a luxurious Brazilian #10, a mesmerising Brazilian winger or even a bombarding Brazilian full-back, there's a lot to be said for a steady, solid Brazilian defensive midfielder who you can rely on to be the glue that holds so much of your team together.
For de Paula, that's exactly what you'll get if you chose to sign up this 21-year-old SEP (see: Palmeiras) player. Bar a handful of stats, Patrick impresses across the board with a sturdy mix of 12s, 13s and 14s that all offer up massive potential to increase. And at £12 million or less, this is someone who is a hugely appealing signing for so many clubs.