Football Manager 2022: 10 Defensive Midfielders You Must Sign
Those defensive midfield players guaranteed to drive you to FM22 glory.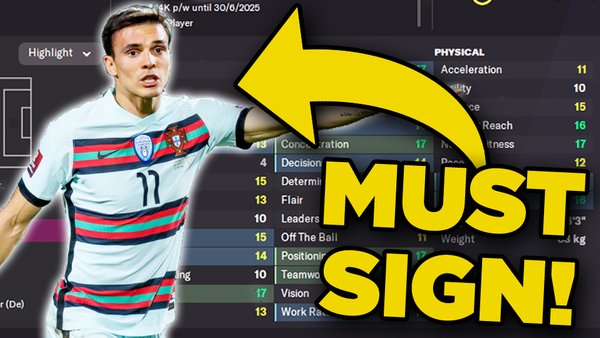 With the latest entry in the Football Manager franchise now fully consuming the day-to-day lives of many of us, even the most die-hard of long-term FM fans can still use a few pointers here and there when it comes to player recruitment.
In case you've missed them, we've already got you covered when it comes to looking at what Goalkeepers, Right-Backs, Left-Backs, Centre-Backs, Wonderkids and South American Wonderkids you need to sign.
Now, it's the time of the more defensive-minded midfield players to take centre-stage. As is the case with those other positions, some of the bigger names and obvious signings are missing here, meaning you won't find a Declan Rice, an N'Golo Kante, a Fabinho, a Casemiro, a Rodri, a Wilfred Ndidi, a Joshua Kimmich or a Sandro Tonali spotlighted here.
Instead, this list is about some of the relatively lesser-known midfield options who can help you keep a steady, tight ship when it comes to breaking up play, covering ground, and generally doing the dirtier side of the midfield work in order to help your more creative players flourish.
With that in mind, then, here are ten defensive midfielders who you should absolutely keep an eye on when loading up your FM22 save.
10. Nohan Kenneh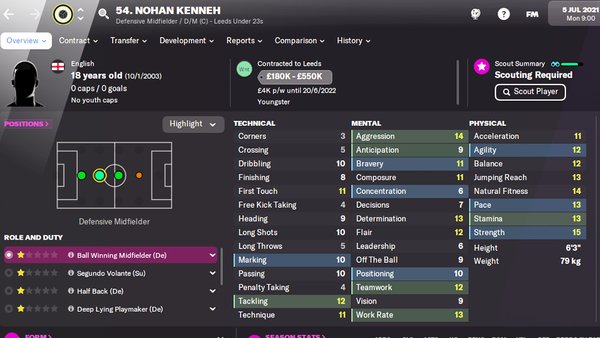 Club: Leeds Utd
Nationality: England
Price: £500,000
Of all of the players on this list, Nohan Kenneh is the cheapest option. Available for £500,000 or less, this 18-year-old is 100% worth taking a punt on.
Usually, Kenneh turns out to be a great defensive midfielder who will play for one of the traditional 'big boys' for years to come. And even if he happens to not quite hit those heights on your FM22 save, that fee of £500,000 means it's a no-brainer to at least take a chance on him.
As is so often the case, a good training schedule and minutes on the pitch will serve to amp up Kenneh's admittedly so-so starting stats. This is the sort of signing who you're best picking up and then either loaning out or making sure he's starting games in a competitive reserves league. Then again, if you're a lower league team who are able to convince Leeds to let Kenneh go, he may well be an inspired name to put straight into your starting line-up.
At just 18, Kenneh's stats were never going to be particularly awe-inspiring when starting a new game, but there's certainly a lot to work with here. And again, that cheap price means Nohan is a 'can't lose' signing.