Football Manager 2022: 10 European Wonderkids You Must Sign
9. Arsen Zakharyan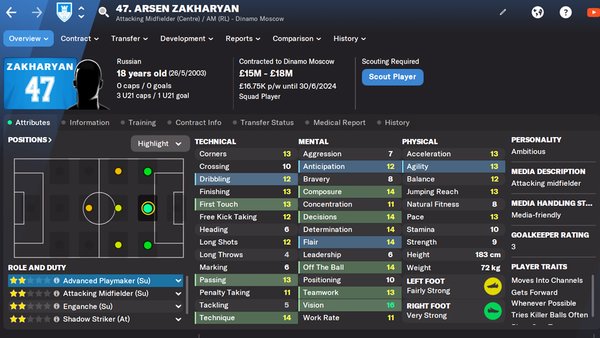 Club: Dinamo Moscow
Nationality: Russian
Price: £16 million
If you're not familiar with the name Arsen Zakharyan, you could well be hearing a lot about this Dinamo Moscow starlet in the next few years.
At 18 years of age, this creative midfielder is already making an impression domestically, with his versatility making him just as useful out wide as he is in a more central attacking midfield role. For FM22, Zakharyan starts with a strong 16 for vision and then incredibly steady numbers for technique, off the ball, flair, decisions and composure.
Away from straight-up numbers, Arsen has traits that mean he's great at finding space in the attacking third, that his creativity will often come to the fore, and that his timing and positioning are stellar.
Despite his value initially being pegged in the £15 million - £18 million bracket, you can actually get Zakharyan for as little as £6 million if the player becomes unsettled at Dinamo. Sure, it's never particularly morally correct to unsettle a player, but hey, the world of Football Manager has no time for morals - especially if you're looking secure a superstar of tomorrow for a bargain price.
In a game where great young attacking midfield players usually come at a major premium, Arsen Zakharyan represents a total steal if you can haggle with Dinamo Moscow.