Football Manager 2022: 10 Left-Backs You Must Sign
9. Luca Netz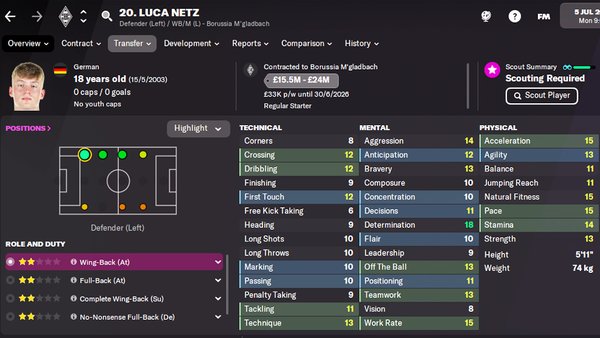 Club: Borussia Mönchengladbach
Nationality: German
Price: £18 million
Whether it's on Football Manager or FIFA, Luca Netz is someone who's appeared on the radars of many a footballing gamer in the past year or two.
Still only 18 years of age, this Borussia Mönchengladbach player is one of the brightest prospects on FM22, period. Some of his technical stats clearly need some work at this stage of the game, but Netz develops at a rapid pace if you're prepared to give him a fair amount of minutes on the pitch for your senior side.
On the topic of "rapid pace", it's starting digits of 18 determination and then 15 for all three of pace, acceleration and work rate where Luca clearly shines upon starting a new FM22 career. A predicted price of £18 million or so may be viewed as a little steep, but that's largely down to how Netz only made the jump from Hertha Berlin to Mönchengladbach earlier this year.
If you have a spare £18 million, though, Luca Netz is well worth investing your money in.