Football Manager 2022: 10 Left Wingers You Must Sign
9. Mikkel Damsgaard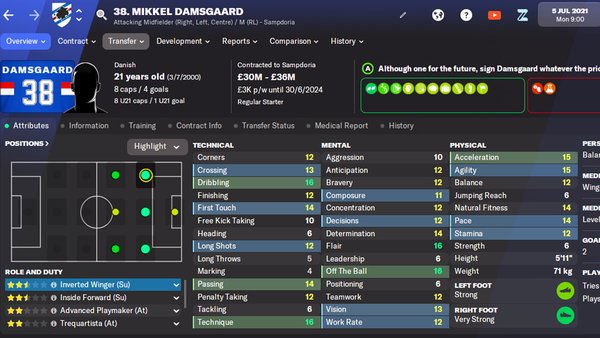 Club: Sampdoria
Nationality: Danish
Price: £30 million
After emerging on the scene at last year's Euros, where the Danish Winger scored a free-kick against England in the semi-final, Mikkel Damsgaard looks like he's on his way to becoming a top player. Currently playing in Serie A for Sampdoria, the Denmark International is a versatile player that is at home in any of the Attacking Midfielder positions and can even put in a shift in central midfield or as Striker should you choose. Damsgaard's best role though is out on the left wing operating as an Inverted Winger.
The 21-year-old starts the game with a well-rounded crop of attributes, including 16s for Dribbling, Technique, Flair and Off the Ball. With 15 Acceleration and 14 Pace the young winger is also no slouch when it comes to beating his defender and is only going to get better as he boasts a fixed Potential Ability of 163.
Sampdoria will likely ask for a fee around £30 million to part ways with the Denmark International, however it's a fair price to pay for a player this versatile that you can be sure will develop into a quality player with the right development.