Football Manager 2022: 10 Left Wingers You Must Sign
Those left-wingers who will leave opposition defenders scrambling.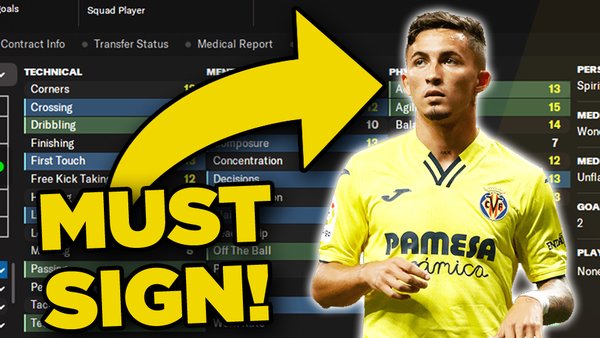 Since the release of Football Manager 2022 back in November 2021, virtual football manager aficionados have been scouring the world in search of the best talent. However, in a database that features a player count in the hundred thousands, depending on what leagues you decide to load, it can often be a real challenge to find and scout the right player.
Thankfully, we've had you covered in recent weeks with a good selection of players to suit your needs all over the pitch, with Goalkeepers, Right-Backs, Left-Backs, Centre-Backs, Defensive Midfielders, Attacking Midfielders, Strikers and Right-Wingers. Now we are going to look to the opposite wing, as we delve into Left-Wingers that you should be looking to sign for your save.
As with the previous entries in this series the obvious names will be omitted as we will be focusing on bringing you players that fly slightly under the radar, so don't expect to see the likes of Ansu Fati, Jadon Sancho or Hueng Min-Son.
A significant number of the players in this list feature Potential Ability ranges as opposed to fixed ratings. For the unfamiliar, this means that at the beginning of your save that player will be assigned a Potential Ability somewhere within that range. This means that a player who could be a world-beating Wonderkid in someone else's save could only be an average Joe in yours, therefore it's always recommended to scout the players fully before pulling the trigger on the transfer (This is a good idea anyway!).
So, here's ten Left-Wingers that you must sign in FM22.
10. Jakub Kaminski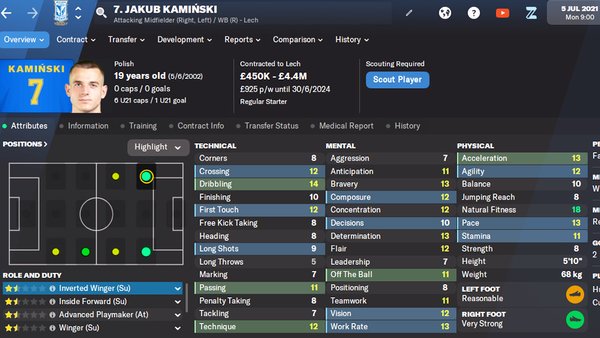 Club: Lech Poznan
Nationality: Polish
Price: £2.5 million
Those looking for an excellent value proposition on the left wing should look no further than Lech Poznan's Jakub Kamiński. Available for around £2.5 million, the Poland U21 International is a great option for clubs that perhaps don't have the funds to sign the bigger name players on this list or even just for the more frugal managers.
Kaminski's attributes are unlikely to blow anyone away at the beginning of the game, even though he does boast some pretty nice Mental attributes to go along with 14 Dribbling, 13 Acceleration and 13 Pace. However, what you are getting here is a young player with bags of potential as Kaminski will be assigned a Potential Ability rating between 130 and 160 at the beginning of the game.
While that does leave the Lech Poznan Winger with possibly the lowest potential rating as others on this list, it's hard to argue that for only £2.5million it's worth taking a chance to see if the version of Jakub Kaminski in your save is near the top of that Potential Ability range.