Football Manager 2022: 10 Right-Backs You Must Sign
Those right-backs who will help you to dominate on FM22.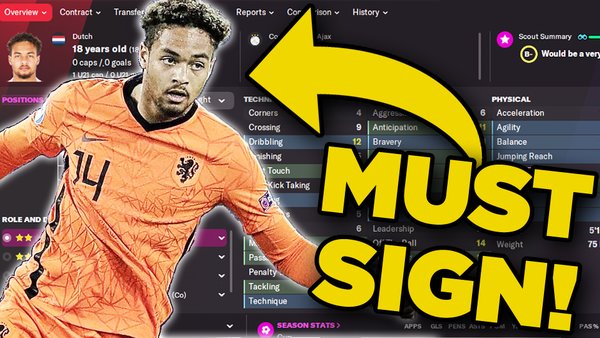 Following on from our Football Manager 2022: 10 Goalkeepers You Must Sign, it's now the turn of the right-backs of FM22 to take centre-stage. If you're in need of some tips on which RBs to target when loading up the latest FM, we've absolutely got you covered here.
Gone are the days of full-backs merely being able to defend, for now the beautiful game is such that these players can often be relied on for their attacking prowess just as much for their defensive work. A team like Jurgen Klopp's Liverpool shows just how important a left-back and right-back can be when it comes to making your entire system click, with Andy Robertson and Trent Alexander-Arnold forever stealing the show for the Anfield outfit.
On that point, there'll be no Trent featured here. Instead, this list is more about some of the lesser-known right-backs who are, or can become, brilliant additions to your squad. So, no TAA, no Achraf Hakimi, no Joao Cancelo, no Reece James, no Dani Carvajal, etc - all obviously great players, and all obviously fantastic signings should you wish to spend big on those heavy hitters.
With all of that in mind, then, here are ten right-back options who could help drive you to FM glory.
10. Wilfried Singo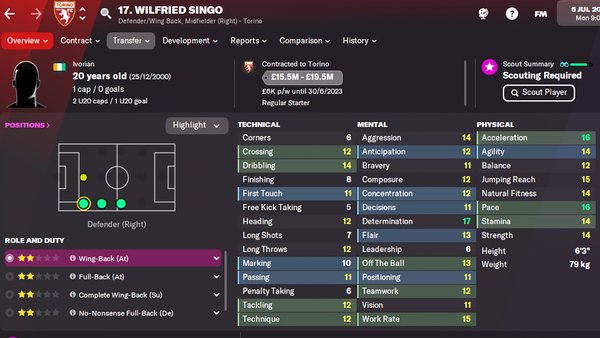 Club: Torino
Nationality: Ivorian
Price: £17 million
Like any good right-back these days, Wilfried Singo is blessed with electric pace, a determined attitude and a willingness to push forward whenever the chance arises.
Not just does Singo provide you with a good, young option at right-back and right-wingback, his solid technical starts mean he's also able to play on the right of midfield too. That said, his best position very much is as a marauding right-back who is forever ready to help with the attacking side of the game.
Having been in and around the Torino first team for two years or so by now, it's not a super cheap deal to get the Ivory Coast international to join your club. Then again, it's not a ridiculously pricey deal to get over the line either, with an offer in the region of £17 million likely to be enough to tempt the Turin club to part with their man.
If that does indeed prove to be a suitable fee for Torino, you could have quite coup on your hands as the 20-year-old has plenty of great years ahead of him.