Madden NFL 23 Review: 3 Ups & 7 Downs
Downs...
7. The Presentation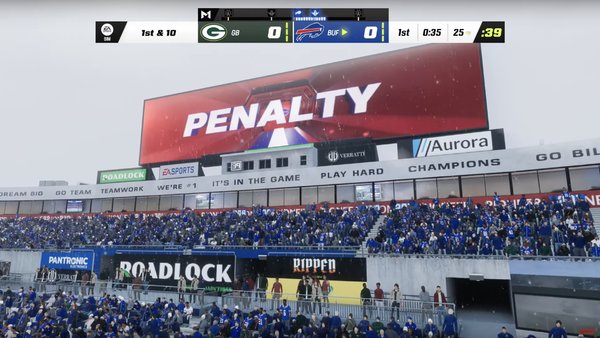 Presentation should be one of Madden's biggest strengths.
Tune into any real-world NFL broadcast and you'll be treated to swooping camera shots, spectacular overhead views, bustling activity on the sidelines and some of the most passionate sporting fans on the planet. Very little of that is actually replicated in-game, which is a real shame.
Commentary from Brandon Gaudin and Charles Davis is seriously tired. You'll hear the same lines and phrases you did years ago, and some of them fail to match up with what just happened post-snap. Their creaking banter, as well as crowds who look like they'd rather be anywhere else, don't help Madden 23 at all.
The series of canned animations that happen with coaches, coordinators and teammates also struggles to elevate the atmosphere. Honestly, EA may as well have put cardboard cutouts on the sidelines/in the stands, and hit mute on the Gaudin/Davis combo.
Oh for a Madden-esque "BOOM!".