NBA 2K18 Review: 5 Ups & 2 Downs
1. ...And A Large Part Of That Is My Neighborhood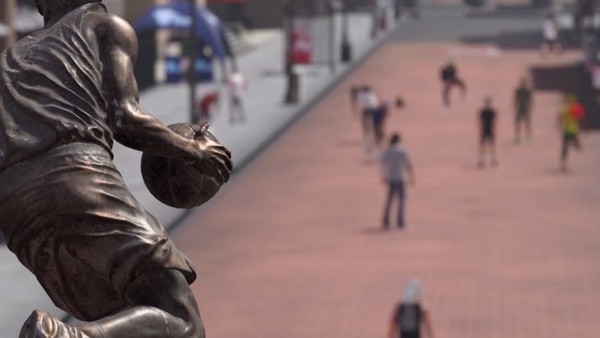 In the MyPLAYER mode you'll be moving around My Neighborhood, which allows you to truly experience the life of an NBA player, also off the court, like during in-store appearances and interactions with your fans. You'll be allowed to practice basketball drills in the team arena, which was already available in the earlier modes, but not in such a physical, realistic way, involving walking into the arena or players practicing on other courts.
Apart from that, there's the ProAm Team Arena, where you can create your team and play with friends and the ProAm Walk-On Gym, where you can join a team. There's also The Playground, which is the 2K18 version of MyPark. There are basketball courts in which you can attempts dunks or score as many shots as possible during a limited time and other players can see your achievements on a big billboard.
Yes, there are other players running around the neighborhood, who can watch you play or practice.
Coming back to the gameplay options, there's also the Ante-Up High Stakes arena, where you can bet VC and earn twice as much or lose it, dependent on your performance during games. You can enhance your player's athleticism in the Gatorade Training Facility too, either by running drills or lifting weights. There's also tattoos, haircuts... you can even create your own t-shirts.
This mode will probably grow after the NBA season begins too, but what's in there is more than enough for now.