NBA 2K22: 10 Things We Already Know
9. The 75th Anniversary Edition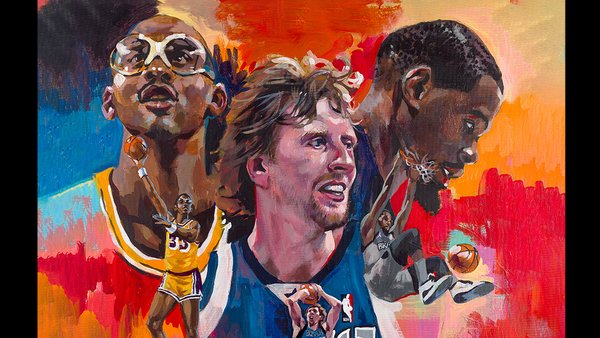 Together, the NBA and 2K are experts at drawing older basketball fans into the games with their special editions. Last year saw Kobe Bryant deservingly honored with the Mamba Forever edition.
This year sees Kevin Durant, Dirk Nowitzki, and Kareem Abdul-Jabbar are featured, marking the 75th anniversary of the NBA's founding. That occurred on 6 June 1946, to be precise.
It goes without saying that the trio are right choices to be involved on the cover; Durant is one of the world's highest-earning basketball players and is regularly in the lead for All-Star team votes and merchandise sales, Nowitzki competed in a commendable twenty-one NBA seasons, only retiring as recently as 2019, and, in 2016, Abdul-Jabbar was perceived as the NBA's second-best player ever, with only Michael Jordan ahead of him.
That's not exactly a bad place to find yourself in.
Again, the cover features gorgeous paintings of the three in their jerseys for the background shot, while the front shots see them making some awe-inspiring shots. The 2K22 logo across the top of the cover is also turned from the traditional red and white to gold to mark the anniversary.