South Park: Every Game Ranked Worst To Best
7. South Park: Chef's Luv Shack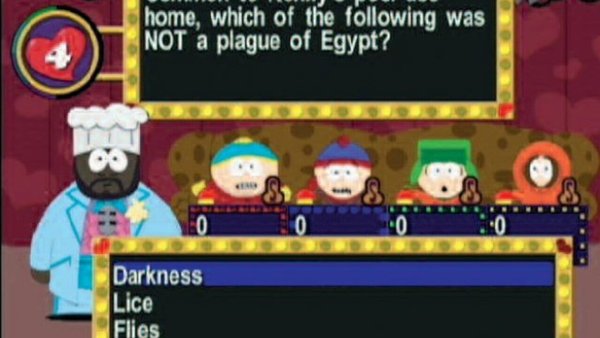 As the first South Park game that stuck to the 2D imagery of the show, it's safe to say this one felt a little more appropriate. But, despite the slightly more on-brand image, it's still an ugly and highly flawed game.
"Chef's Luv Shack" is a simple quiz game that mixes a few minigames into its runtime. You'll answer general knowledge questions with a little bit of showmanship from Chef. Then, you'll be subjected to games reminiscent of Asteroids, Balloon Fight, Paperboy and more, all with a South Park coat of paint.
It's a very run-of-the-mill title that does what it says on the tin, with little passion about it. The comedy falls flat every time, as it's awkward and ill-thought-out, which makes sense as Trey Parker and Matt Stone had little to no involvement in it.
There is a little fun in the minigames, but not enough to make it a worthwhile play. Plus, it's exclusively multiplayer, with no in-game AI at all, so if you wanted to give this one a go, you'd have to find people who are also willing to subject themselves to it.
Good luck with that.