Star Wars Jedi: Fallen Order Hands On - 10 Things We Learned
10. Combat Both Empowers AND Challenges The Player
Games that position in the player in the role of someone whose whole schtick is being powerful tend to have a major conundrum on their hands, in that they need to empower the player, but not to the extent that challenge flies completely out of the window.
Even leading licensed titles like Batman: Arkham and Insomniac's Spider-Man have struggled in that regard, in that, by depicting those two superheroes at the peak of their abilities, there's rarely cause to genuinely challenge the player. Sure they'll have difficult moments, but it's infrequent that you'll ever be left facing an early game over screen should you play on either title's default difficulty setting.
Fallen Order differs in that regard, and Respawn should be commended for their approach. There's a genuine sense of challenge to every encounter, and the fact that protagonist Cal Kestis is only a Padawan learner provides narrative cause for why he'll occasionally struggle when coming up against a group of enemies. Equally, while it was difficult to get a full grasp on Fallen Order's progression system during the demo, it did include an array of lightsaber moves and force abilities that will no doubt compliment Cal's narrative arc, as well as the player's own sense of accomplishment and reward as they advance the story.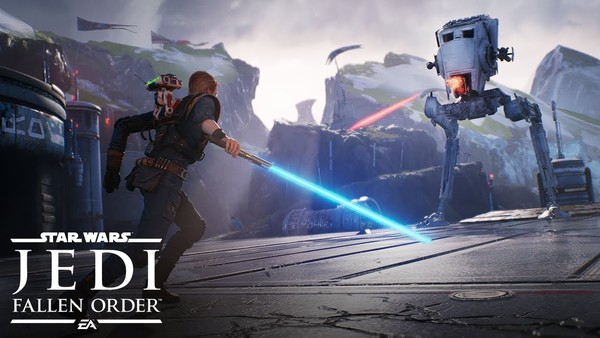 Any title that focuses on lightsaber combat has to nail that element, and my brief time with Fallen Order didn't give any cause to suggest that Respawn hadn't done their homework. Cal's lightsaber is weighty and powerful, and while there isn't full dismemberment when you turn your weapon towards Fallen Order's human enemies - along the lines of the recently remastered Jedi Outcast - it still feels great to use.
Indeed, Fallen Order's more considered approach to combat is likely to resonate with those who've acclimatised to the wave of 'Souls-like' games that have graced this particular generation of consoles. Button mashing is pretty much a guaranteed death sentence and each encounter brings with it a unique array of threats. The end result embodies Bushnell's law to a T, and could prove massively refreshing in a post-Arkham landscape.
Ewan Paterson
WhatCulture's very own Comics Editor. Cats, comic books and spaghetti westerns are my thing. Rants about stuff @EwanRuinsThings
See more from Ewan