Football Manager 2022: 10 Bargain Strikers You NEED To Sign
Those bargain buys who can boost your FM22 forward line.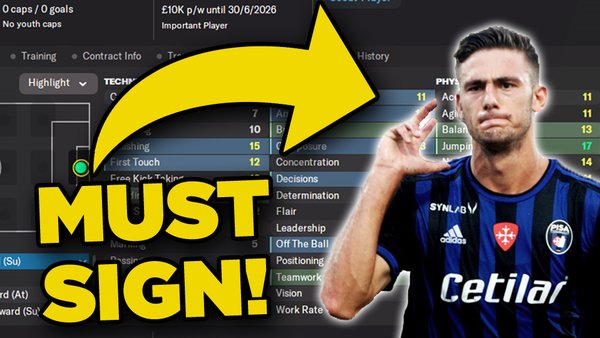 The Football Manager continues to be a phenomenon year after year, with the franchise soon to celebrate a whopping 30 years since the series launched under the guise of Championship Manager.
As players continue to get to grips with Football Manager 2022, there's always that urge to seek tips and pointers, particularly when it comes to potential signings. And if you're if need of boosting your attacking options, this list here is well worth your time.
Across the past few weeks, we've looked at brilliant Goalkeepers, Right-Backs, Left-Backs, Centre-Backs, Defensive Midfielders, Attacking Midfielders, Strikers, Right-Wingers and Left-Wingers when it comes to FM22 targets. Now though, we're honing in specifically on Strikers who you can pick up for a bargain price.
In terms of what constitutes a bargain here, you'll find that the vast majority of forwards on this list are available for under £1.5 million. Even then, the most expensive on the list is £2.7 million - and, in fairness, that player can be picked up substantially cheaper if you play your cards right.
With that in mind, then, here are ten bargain buys - both young and old - who can bring plenty of fire power to your forward line.
10. Jung Sang-bin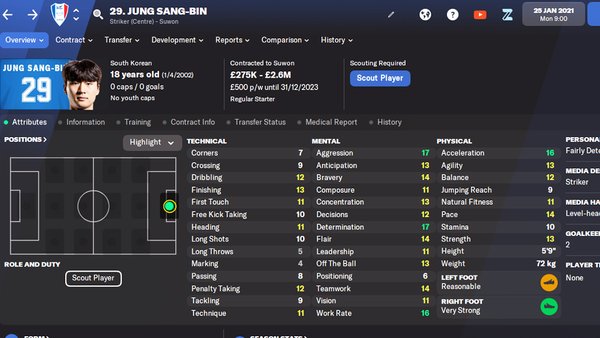 Club: Suwon Bluewings
Nationality: South Korean
Price: £650,000
A few of the names on this list may be familiar to football fans, but Jung Sang-bin is undoubtedly someone who most people reading this will never have heard of.
Plying his trade for Suwon Bluewings in the K-League, Sang-bin starts the game at either 18 or 19 years of age depending on what country's season you choose to begin your FM22 save with. Either way, he's a hugely promising youngster with a ridiculously bright future.
Determined, hard-working and aggressive, Jung's approach and work ethic alone means that he can thrive in even a semi-decent coaching environment. With a bunch of attributes in the 13-16 range - including important stats like finishing, acceleration, pace and flair - there's so many great basics to work with when it comes to having this player in your ranks.
In real life, Sang-bin has already won his first international cap, with his South Korea debut also seeing him net his first goal for his country.
Similarly in real life, the player signed for Wolverhampton Wanderers this past January. As such, that means you'll have to move to sign him up on FM22 before the official database update arrives in March.